To become a successful blogger, you need to dedicate every fiber of your being into improving your site. Producing stellar content is a step in the right direction, but you still have a long way to go if you want a standout blog that people will read.
When it comes to improving your site's design, you need to factor in the tools available to bloggers as well as the ever-changing preferences of the online audience. But you don't have to be nose-deep in research to figure out the pieces that will work. All you need to do is to look around you, "borrow" inspiration from the top blogs and adopt the strategies that align with your goals.
The entire process will take some time, but to get the ball rolling, here are five of the trending blog design examples you can feast your eyes on:
1. Smashing Magazine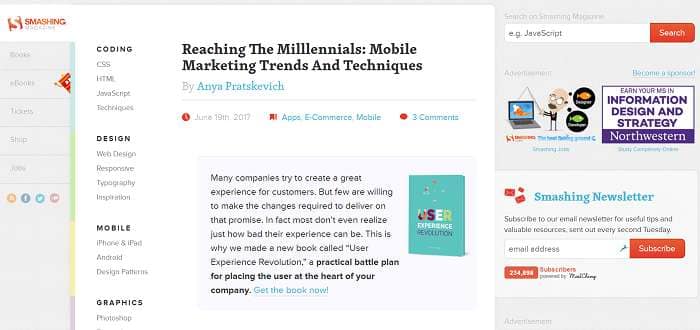 The design of Smashing Magazine's homepage is a rare breed. Rather than positioning the main navigation bar on top of the website, which is what most other blogs do, they stylishly placed it to the left along with the tiny logo and social sharing buttons.
As a result, they had plenty of screen real estate left for essential elements such as the search bar, an opt-in form, and their latest posts.
Since the average page visit only lasts for less than a minute, be sure your design above the fold makes a solid first impression. Looking at the screenshot above, it's clear that Smashing Magazine smashed this goal.
2. Microsoft Stories
Ever since the release of Windows 8, everybody knew that Microsoft has a thing for card layouts. Just look at Microsoft Story Labs – a blog that covers the latest tech, profiles, and events that the Microsoft community cares about.
In blogging, the modular layout of Microsoft Story Labs is perfect if you have heaps of content to show off. The primary challenge, however, is finding the perfect images that complement each post.
3. The Backlinko SEO Blog
First of all, the Backlinko SEO blog has a pretty generic layout above the fold. There's a menu on top, a huge CTA at the center, and the latest posts within scrolling distance.
This isn't the reason why it's included in this list.
If you click on any post, you'll notice that every single section is accompanied by custom graphics – from the introduction all the way down to the conclusion.
This doesn't mean you should produce only visual-heavy posts from here on out. That would be expensive and impractical, especially for small blogs that have little to no online presence. But if you do acquire the resources for such a project, it can be singlehandedly uplift your blog's authority, credibility, and reader engagement. That is if you implement the right content promotion tactics.
4. 500px ISO
For a photography blog, you'd expect 500px ISO to be loaded with high-resolution, professional images – and you're right.  Above the fold, about 90% of each page is covered by an original photo background. And as users scroll through the content, they'll be greeted with even more stunning visual elements, including 360 images, Instagram widgets, and videos.
500px ISO is an example of a blog that understands its target audience. They know the content types that resonate with their readers, which made design planning a straightforward stage for them.
5. Mashable Asia
Lastly, Mashable demonstrates responsive web design in its purest form. When viewed on a mobile device (or through a smaller desktop Window), each section automatically rearranges to fit the screen without sacrificing readability. You'll also notice the top menu collapse into a "hamburger" menu to save screen space.
Take note that mobile internet usage has officially exceeded desktop internet usage by a small margin. To ensure a consistent experience to as many users as possible, it's preferable to implement responsive design than to invest in a separate, mobile-dedicated site.
If we're going by mobile responsiveness, there are plenty of other sites that can take Mashable's place on this list. But that's the thing about web design and development. No matter how unique you think your ideas are, there will always be another brand with a similar strategy. In which case, the only way to outshine them is to be even more relentless in other facets that count – including marketing and SEO.