There's a reason why WordPress is arguably the most popular and used blogging platform. Its user-friendly features and wealth of plugins allow you to maximize your blog's exposure to your readers.
But WordPress has outgrown its purpose as a platform strictly for bloggers. WordPress has provided businesses with more themes, plugins, and functions to get the most out of their websites. The blogging platform is now considered a content management system (CMS), a catch-all phrase that lets people create website that cater to their very needs.
While this is a good thing, you may want to keep things simple as a blogger. Instead of getting caught up with choosing the best plugins and themes, you can turn your focus into sharing your ideas to readers through words instead. This can be done by using the free and minimal WordPress alternatives below.
authpad's"frictionless" approach to blogging help writers put emphasis in their writing. Create your posts and pages on Markdown or HTML. Choose from five basic themes and edit its CSS to achieve a unique look with it. Let visitors comment on your post using Disqus.
What if you've always wanted to get things off your chest but don't want to create and manage a blog for it. Enter Pen.io, a platform that allows people to create a one-off blog post without the hassle of signing up for a blog.
Aside from sharing your thoughts, there are other  fun ways on how you can use Pen online such as brainstorming for your next project, post short stories, and more.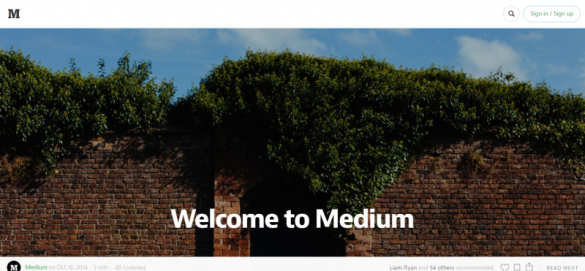 Medium is the brainchild of former Twitter co-founders Biz Stone and Evan Williams. Their aim is to provide writers and bloggers a seamless experience of writing and sharing their work with an audience. The single column layout lets readers focus on the content. You can recommend, save, share, and embed the story on your other web properties if you wish. If your post is great, it can get featured on the front page of the site. Creating an account is also easy when you have a Twitter account.
If you use Dropbox and Evernote, then blogging on postach.io is a no brainer. After signing up for an account, you can sync your postach.io with either apps. You will need a text editor in order to create and save a post on Dropbox before you can upload it on your blog. With Evernote, its built-in text editor lets you type out your post and upload it once you're done.
Just like a good blogging platform, postach.io lets you choose from different themes, install Disqus commenting system, and edit the source code, among others.
Everything on a web page is clutter with the exception of the content in the body. Svbtle follows this mantra by creating a distraction-free environment not only for readers, but also for writers. This way, they can put all their energy into writing their posts without getting sidetracked by other features. Like Medium, there's a chance that your post can be featured on the front page of the site.
Final thoughts: While these WordPress alternatives shouldn't convince you to abandon the CMS, it should still make you rethink your approach to blogging.
If you're intention is to put out great content without worrying about anything else, then the platforms above provide minimalist approach for the sake of putting your post in the spotlight.
More on WordPress alternatives: