Running a blog as an online business can open the doors to new and exciting possibilities. Productive blogging enables you to explore any idea under the sun, which potentially increases your success to virtually no end.
However, as Uncle Ben once taught us, with great power comes great responsibility. In this case, the more challenging a blogger's line of work gets, the less productive we are tempted to become.
Thankfully, there is always light at the end of the tunnel. The following practical tips can help you become a more productive blogger and subsequently reach your wildest dreams.
Handle the Most Important Tasks First
Many of us are used to warming up to the day by getting the easier tasks out of the way first. These may include checking our email or replying to a few blog comments.
The more you put off difficult responsibilities, however, the more likely you are to slack off as the day goes by. This could lead to being late in publishing your latest blog post, managing your newsletter campaigns, and so on.
Do yourself a favor by getting rid of the most daunting tasks first thing in the morning. You'll be glad you did.
Schedule Your Blog Posts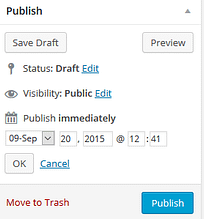 An efficient way to become a more productive blogger is to simply plan ahead. Thankfully, platforms like WordPress allow you to fully schedule articles at the exact time and date you wish to publish them.
While composing a new post, simply edit the "Publish" option and set the desired posting date. Easy as pie!
If your goal is to publish two weekly posts, for example, you can crank them out on a Sunday morning and schedule them throughout the week. This prevents you from worrying about that particular project so you can conduct other blogging-related activities instead.
Use an Old-Fashioned To-Do List
There is a reason to-do lists are still relevant today: They just work.
A to-do list is unbelievably essential for multi-tasking, planning and management, which are coincidentally some of the main ingredients for successful blogging. If you manage multiple resources, then this is where to-do lists come into play.
Whether you use a desktop/mobile app such as Wunderlist or an old-fashioned pen and paper, this tool can truly help you manage your blog more effectively over time. Depending on the app in question, some can also sync your data directly to and from your mobile device. How neat is that?
Outsource
Outsourcing your blogging tasks largely depends on the work involved and your personal finances. While spending money may not be an option for everyone, thankfully the work involved typically comes in many shapes and sizes.
Can you outsource small tasks such as email replies or keeping your social media pages updated? Or perhaps have someone manage them only on your busiest day of the week? Approach your options accordingly to subsequently increase your overall blogging productivity.
Set Realistic Goals
Setting manageable goals is a crucial step to become a more productive blogger, as it allows you to execute your objectives more realistically.
For example, a blogger's biggest dream is often to increase website traffic exponentially. While certainly achievable, remember that these goals take a considerable amount of time and persistence, which are usually your productivity's biggest enemies.
All in all, you must set realistic goals based on your specific needs and the time you have for such activities each day.
Final Thoughts
Your productivity level can ultimately make or break your long-term goals. By planning, executing and properly maintaining a steady schedule, your endeavors will undoubtedly lead to unprecedented and unlimited success.
How do you handle your daily routine? Let us know in the comments below!
Also don't miss: