If you own a marketing company—whether newly launched or well-established—chances are you rely on a blog to help your business grow. In the marketing field, the blog is even more important than ever. The great thing about running a marketing business is that every type of business needs help, regardless of their industry. This gives you plenty of opportunities to appeal to a wide range of business owners.
Once you've designed a beautiful site, made sure your website is optimized for mobile, and created intuitive navigation menus, it's time to focus on one of the most important elements of all: content. Here are five ways you can make your marketing blog succeed:
[bctt tweet="Learn how you can make the most out your marketing blog so you can publish content that resonates with your audience and helps build your brand." username="blpro"]
1. Take a Tip From Marketing Experts
As a marketing blogger, you understand that you're working with a pretty broad niche. You can succeed with a broad niche, or break your niche down a little further. Regardless of how you choose to proceed, one thing is certain: you should take a tip from some of the most well-known marketing experts. Here is a list of the some of the best marketing blogs to help you get started.
Now, this doesn't mean you should copy exactly what they're doing. But, as the old adage goes, "Everything has already been written." Use some of their previous posts as inspiration—and always put your own spin on it, or dive a little deeper. You can also turn to these marketing sources for news in the marketing industry.
Overall, you don't want to assume that your readers are reading all the other marketing blogs, too. Furthermore, there are dozens of ways to do something different—even when it's already been done.
2. Connect With Your Customers
It's critical that you connect your business goals with the needs and wants of your target market. And to better understand their needs and wants, why not take it upon yourself to actually speak to them? Send out a survey, or create a contest for people who submit feedback, for example.
When you're reaching out to leads about what they're looking for, it's important to be careful not to be a salesman. After all, you're trying to gather data that will prove invaluable to the future of your content strategy, and you don't want to scare them.
For example, perhaps you might discover that many of your marketing clients don't actually have marketing goals. Therefore, you might inadvertently be pushing resources and services that they aren't ready for. You should align your blog to appeal to both there needs and wants, which then makes it easier for those leads to move down your sales funnel.
3. Prioritize your own goals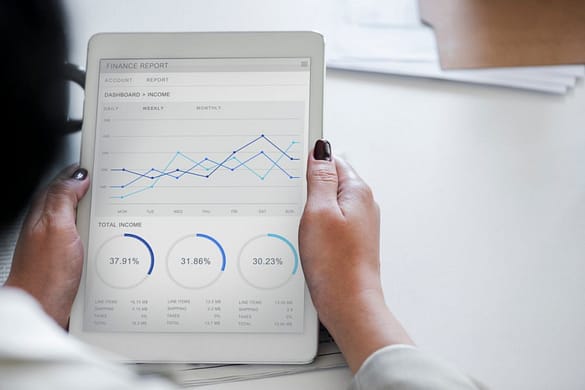 Your personal business goals will change over time, but that doesn't make it any less important for you to identify. Ask yourself what you're trying to achieve. Of course, in the end, you always want to generate revenue. However, it's a slow and steady process to get there, and you should determine ways to achieve this.
Do you want more sign-ups for your marketing newsletter? Do you want people to submit a request for proposal? Get higher blog engagement? Become a thought leader in the field of marketing? Focus on a specific goal, and use the SMART goal system to achieve it. By focusing on one goal at a time, you'll be able to better manage your efforts and progress.
4. Plan out your content
There are dozens of reasons why planning out your marketing content can actually help you become a better marketing blogger. For starters, use an editorial calendar to manage your editorial plan. With an editorial calendar, you'll have a high-level overview of all your content. Creating an editorial calendar should be a priority: here's how to set it up.
When your content is planned out, you can focus on the entire schedule using a roadmap software, and not just one street. For example, as you're mapping out your topics, you might notice that there's currently no content for helping businesses choose a blogging niche. Content mapping will allow you to identify gaps and holes in your content strategy. Furthermore, it encourages you to stay consistent with your writing, which can be difficult to do.
5. Pay Attention to Your Data
If you don't look at your data—and give it a nice, thorough look—you'll never fully comprehend what next steps should be. There are always ways to improve, and the data can show you the way. Not only can it help you determine areas of improvement, but it can also reveal areas that are particularly strong, which can tell you where readers are finding the most value.
Related posts:
How to Monetize Your Blog with Affiliate Marketing
Blogging for Thought Leadership: A Marketing Tool for Startups