Blogging isn't a one-man-show. It's not just about writing content and publishing it on your blog. It's about letting the people see it. Isn't getting more traffic one of the primary purposes of blogging? Yes, it might be an outlet for your thoughts. But you surely don't want to miss the opportunity of monetizing your blog.
So, how to earn from your blog? Well, through link building! But the tricky part here is that launching a link building campaign isn't the only answer.
While you can choose from over different link building strategies for your campaign, there's an easier way for it.
And that is by passively acquiring links from authoritative sites to your blog. You'll surely breathe a sigh-of-relief in knowing these best ways to gain links to your blog.
1. Promote your content
Promoting your content is a requirement for all bloggers. This brings your word out to the world. What would be the purpose of your blog posts if no one sees it? Are you just going to sit down and wait for visitors to come? If that's the case, then you're just wasting your blog's potential.
Promote your content on social media. Facebook, Instagram, and Twitter would rake in lots of visitors. You can also embark on a video marketing campaign on YouTube. Even email outreach works. Showcase your blog to renowned bloggers and websites. This way, you'll tap into their market when they mention you in their posts.
2. Reclaim your link
Link reclamation is the easiest of methods to gain a link. The first thing to do is to find online mentions of your blog. You can do this by using a tool like Mention.net or BuzzSumo. When you find the mentions, you can then contact the site's owner and request for a link back.
Simply send them a friendly reminder to add your blog's link to their content. And don't worry if you think they're going to ignore you — because they won't! The mere thought of them mentioning you shows that they like your blog.
3. Deal with blog aggregators
Blog aggregators are a sure-fire way to gain links to your blogs. These are sites that list high-quality blogs from different niches. It's like a directory where visitors can choose a blog they're interested in. Simply submit your site and use an HTML code to prove ownership of the blog. You then get a do follow link upon the approval of the aggregator. Talk about easy and free advertising, eh?
4. Donate, donate, donate
Your online presence still revolves around reputation at the end of the day. And what better way to have a good image than to be charitable? You gain the trust of people by donating to sites like non-profit organizations. It shows that you have a generous heart. But it's more than that.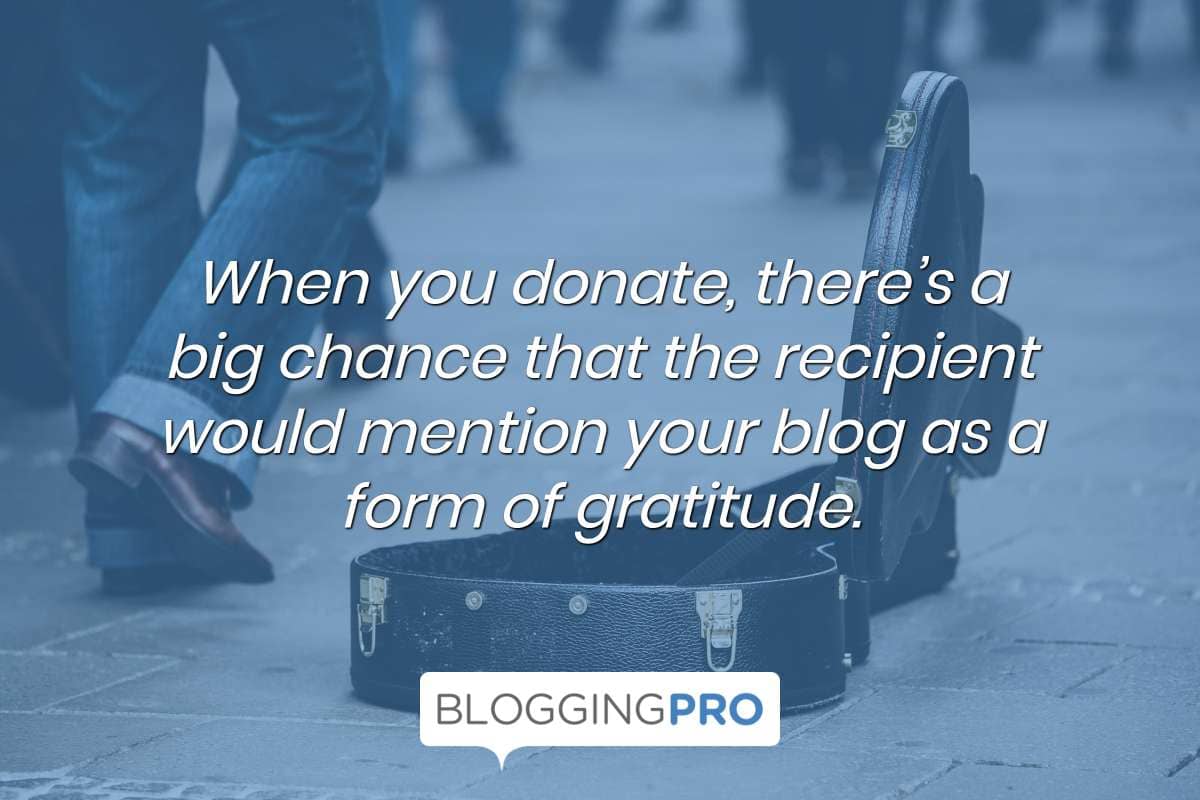 There's a hidden agenda behind this. When you donate, there's a big chance that the recipient would mention your blog as a form of gratitude. Find a site that links back to your blog in exchange for donations. And send your donation to them along with your blog's URL. But what's great about this is there's no need to donate a huge sum. Even a few bucks will do!
5. Master linkbait content
Creating linkbait content is another way to get around link building. These are content designed to get the attention of other blogs. It also increases the likelihood of link backs because of its many inbound links. Search engines green-light blogs like these. But be sure not to have misleading titles and unrelated links.
Every bit of content should be relevant. Otherwise, you risk your blog being labeled as click-bait. Also, make sure that your content is of high-quality. Sprinkle it with valuable information like statistics and real-life examples.
Conclusion
A study states that 35% of bloggers spend around $1,000 per month on link building. But it doesn't always have to be expensive. In fact, you don't even have to exert too much effort on it.
The methods mentioned prove this. It all boils down to ingenuity and wit. Also, have the determination to increase your blog's traffic. When you do, there's no stopping your blog from getting more traffic and ultimately more revenue.
Related posts:
Tiered Link Building: Good or Bad for SEO?
The Age of Link "Earning": Why Link Building Doesn't Matter Anymore