Guest blogging is dead!
That's the panic cry of many bloggers and content marketers these days; but no, it isn't necessarily true. Robyn wrote a thoughtful article on that very topic recently, and I suggest you take a look at it to get a more positive perspective: Guest Blogging is Not Dead, It Has Matured – A New Guide for Online Writers.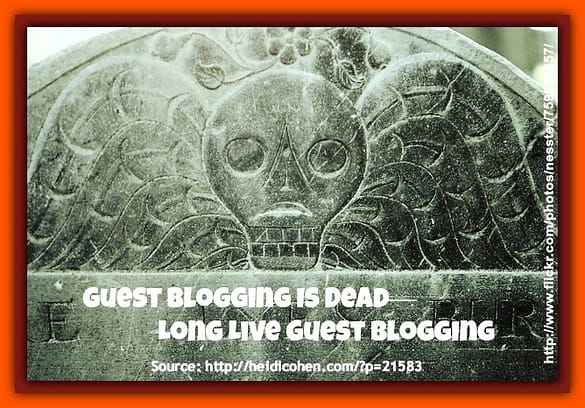 So, if you're still going full steam ahead with your guest blogging activities, these five tips will help ensure that your offer gets accepted.
1. RTFM!
Read The F*cking Manual. That says all, really. Most sites have their guest post guidelines easily accessible, so before you do anything, read those guidelines.
2. Offer several title ideas.
When you send your inquiry or guest post offer, give the necessary information at once. Guest post managers and site editors have tons to read. They don't have time for fluff, so get right to the point.
After you RTFM, you should have a pretty good idea of what kind of topics the site publishes. Think about what you want to write for them, and come up with several good titles. Believe me, the person reading your email will only be more interested in considering your proposal.
3. Give a brief outline or description of your proposal.
More than presenting several titles, take an extra step: provide a brief outline or description for each title. This will give the editor/guest post manager a better idea of what you are bringing to the table. Don't make it too long, though – two to three sentences should be enough. If you have to write much longer descriptions, not only do you risk losing the attention of the recipient, but you also show you can't present your ideas concisely.
4. If you're linking to a specific site you're affiliated with, say it outright.
Links are at the center of the guest blogging issue. Many sites have been penalized for linking back to certain types of sites, or sites that are totally unrelated to their topic. It's a whole tangled mess, really, but one thing is for sure: site managers are now ultra careful when it comes to links that come with guest posts.
I suggest that, when you make your guest post offer, don't hide any information about links that you will be using. Instead, just say outright that you will be linking to your blog or your website in your author bio or in the body of the post. That will save everyone time at the end of the day.
5. Make sure your email is word perfect.
No brainer, this one is. Proofread. Edit. Revise your titles if necessary. Tighten your outlines. Make sure there are no typos.
Follow these guest posting tips, and you'll increase your chances of getting positive responses.
Want to write for us as a guest? Drop us a line here.