Since the 2.x release of WordPress, the blogging platform has more and more been praised because of its versatility. Obviously, WordPress is mostly known as a blog platform, but depending on your creativity, you can do much more with the very flexible platform.
No limits are set and over the next weeks we will dig a little deeper into some of the ways WordPress can be used, helping you with the (coding) basics to use WP as more than a blogging platform. For now I will list the different options WP can be used for. This list is not limited.
Blogging Platform
Blogging obviously is the main usage of WordPress.
Photoblog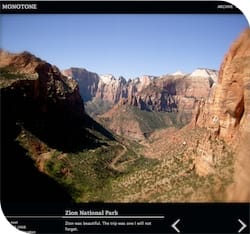 Because it is very simple to upload images with WordPress soon users started to regularly post photos, using WordPress as a photoblog. Until the release of WP2.5 photobloggers had to use the custom fields to upload thumbnails for the archive or to create a filmstrip in the footer. With the new media uploader in WP2.5 this is not longer needed. WP now automatically generates a medium sized and a small thumbnail. Thumbnail sizes can be specified in the settings and used for the archives display or a filmstrip.
There aren't many photolog themes for Wp and even less generate the photolog feeling with only one picture on the mainpage and a click on the picture goes to the previous entry. With the arrival of the Monotone Photolog Theme for WordPress theming in this area soon make become more popular. AFAIK Monotone officially is only released for WordPress.com, but can be retrieved from the SVN Directory.
Tumblelog
Tumblr is a popular platform, perfect for quick blogging items people stumble upon. I mentioned in my previous entry that Chyrp a great self-hosted platform is for your own tumblog (?!), but also WordPress can be used as tumble-engine.
Using WordPress as a tumblelog is not difficult: there are several themes to make your Wp blog more tumblr-alike and there's even a Quick Post plugin for WordPress, providing the blogger with bookmarklets to easily submit content to their WordPress powered tumblelog.
Start tumbling with WP in the true self-hosted spirit!
Magazine
Since several months there has been a rise in the number of premium themes for WordPress, many of them focusing on providing a newspaper, magazine alike look for WordPress
Revolution by Brian Gardner was one of the first really popular ones, together with Mimbo, which initially was released under the GPL and later evolved into a second, Pro version, with custom image uploader.
Magazine themes for WordPress rely heavily on the usage of Custom Fields and Conditional Tags.
Most magazine themes have featured posts, use many thumbnail images on the main page and display recent entries from different categories. The success of a magazine theme IMHO heavily relies on the quality of the top navigation bar.
Online Shop
The real success of WordPress isn't just the blog platform software, but the whole community around. And the great plugins. WP-eCommerce is one of the more extensive plugins, powering a complete online store front-end, based on WordPress. The competition in the eCommerce area is heavy with options such as the hosted Shopify platform or the well-known open-source osCommerce software., but when it comes to ease of use and features the WP-eCommerce plugin can compete with all of them and according to the plugin homepage even powers more shops than osCommerce does.
Contact Manager and Customer Relation Management
Both Design Intelliction's WP-Contact Manager and Slipfire's WP-CRM plugins prove that there really aren't any limits to WordPress's versatility.
WP-Contact Manager is a theme for WordPress using several plugins, Wp-CRM is a full-blown plugin, inspired by WP-Contact Contact Manager and 37Signals's Highrise.
With both options it is easy to maintain, publish your contact list online.
Twitter Platform
The excellent Prologue theme for WP offer every blogger a Twitter alike platform:… without the 140 characters limitation.
Use it for your company, with your friends or just for fun!
The theme is slick, fast loading and depending on what you tweet… fun! Prologue even allows comments. I reckon FriendFeed Comments is the perfect addition to this theme.
Other Usage Options
As shown so far, there really are no limits set to the way Wp can be used. I use this blogging platform as a personal wiki, tumbling interesting topics. Other bloggers, developers use WordPress as a CMS, although it isn't entirely clear to me what Content Management System really means in this matter. Smarter navigaition? *Nuke alike left sidebar or is every blog per se a CMS?
I am sure with time more and more ways to use WordPress will appear.
Update: As Andreas notes in the comments, WordPress can also be used as job board with the help of the RecruitPress plugin.
---
Franky writes in his free time at iFranky and can be followed on twitter. Be warned, his twitter account is heavily G&T powered!