Google+ hangouts are one major Google development that had their time in the spotlight and then faded. Many still use hangouts as a way to talk with friends and family, but there are many untapped features that bloggers can utilize to improve their online visibility and overall brand. As Google+ becomes more and more important in the world of search and social, it only makes sense to use their video chatting service as opposed to another. It's free and easy to use, but bloggers really need to know: What exactly should I be doing to increase readership and clicks?
Google+ Hangouts Basics
For those who are unfamiliar, Google+ hangouts is a feature of Google+ that allows you to chat with others through the Internet—exactly like Skype. The difference, however, is that is goes through your social networking account and it's completely free to chat with up to 10 people (or 10 screens rather) at once.  Because Google+ is becoming so important for Google rankings, it only makes sense to keep all of your video chatting in this one place. Below is a screenshot from Gigaom that shows you how the interface looks: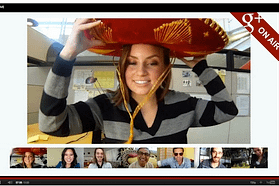 Getting started with Google+ hangouts is also incredibly easy. You simply login to your Google+ account, look to the left hand side where it says "more" and the scroll over to "hangouts" (sometimes hangouts is its own category on the left). You will see a big "start a hangout" button, and then you're set to invite people and wait for them to join the hangout on your screen.
How Bloggers Can Optimize Google+ Hangouts
As usual, bloggers have been some of the first to experiment with hangouts as a way to improve their blog and help educate their audience. If you own a blog and are looking for some extra exposure or a way to stay creative, there are a few cool features that you can try:
Host a question and answer webinar that anyone can join.
Bloggers often blog as experts on a particular topic, so you're sure to have a lot of questions coming your way. Consider hosting a webinar that anyone can join to ask you questions about your topic or about your blog. This is a great way to educate your audience and also learn something from those who join the webinar. Everyone can participate.
Hold a demonstration or explain a particularly difficult concept to your readers.
Things can often be much better explained when there is interaction instead of just words on a page. If you need visuals to explain your point, hangouts are great (I've seen this work quite well for those that have a cooking blog).
Re-use a hangout to post on your blog.
You can actually record your hangouts and then post the hangout on your blog or on YouTube. This works great if you are unexpectedly answering a question to a friend or another blogger.
Unfortunately, more and more companies are moving away from hangouts as a tool for bloggers and using it strictly to talk with friends and family. Nonetheless, hangouts are a great way to stand apart from your competition and gain that engagement that so many blogs need. It's easy, and once you get started you'll want to keep going!
How do you use Google+ hangouts for your blog? Is there a particular feature that you like best? Let us know your story and your thoughts in the comments below.
Amanda DiSilvestro is a graduate of Illinois State University. Although she graduated with an English Education degree, she found herself working as a full-time blogger in the SEO/social media department at HigherVisibility SEO, a leading franchise SEO services company.