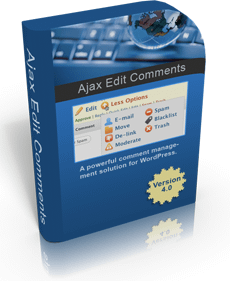 This week I had the pleasure to review the WordPress forms plugin Gravity Forms and today I'd like to tell you more about another WordPress plugin review: Ajax Edit Comments. The obscure title may not give away too much when you're not intimately familiar with the programming languages out there, but the plugin does exactly what it says. Through the wonderful scripting of Ajax this plugin allows user to fix their typos themselves. Ajax Edit Comments gives everyone commenting on your blogposts the ability to edit their comments after having submitted them.
The Basics
After downloading the latest version of the plugin from the Ajax Edit Comments Forums and having installled and activated you will find your Ajax Edit Comments under Settings. Even though it may seem like a little functionality added to your theme, the creators certainly didn't go easy on the settings part. There's a lot of fine-tuning you can do like "Allow Editing After Additional Comments Have Been Posted", "Allow Users to Edit Their Name" and "Allow Users to Request Deletion of Comments".

The Features
Internalization – Ajax Edit Comments has a team of dedicated translators. Ajax Edit Comments is currently translated into twelve languages and counting.
Dedicated Members Section – Members have their own membership page, where they have access to our latest version, test versions
Overview of their affiliate information (balance, total earnings, etc.).
Strong Plugin Customization – Ajax Edit Comments come with six different icon sets to choose from. In addition, the features can be heavily customized. And more is being added with each new version.
After the Deadline Integration – After the Deadline (owned by Automattic) is the must-have tool for online spell-checking. Ajax Edit Comments comes with built-in integration with After the Deadline.
Free Add-ons and Other Freebies – Periodically we will announce freebies that can be accessed via the Member's section. Freebies in the past have been free premium themes, and the WordPress and Ajax e-book.
In-depth Online Documentation – We have a strong documentation section covering installation as well as a detailed look into AEC's feature set and admin panel options.
As you can see that is quite an impressive list. What I really like about the total package is the thorough documentation.
What I Love About Ajax Edit Comments
What I love about this plugin is easy. It gives me as site owner the opportunity to really fine tune in what way, shape and form I want to allow my site visitors to edit their comments. I can imagine that having this kind of flexibility added to your comment section will actually encourage people to comment more often. What I personally also enjoy are the integrated translations. For example, a lot of my clients have their websites primarily in Dutch and it does break the flow if you have your site in Dutch and you have to switch back to English just to add a certain functionality. Last, but certainly not least, I love how the plugin behaves, in other words how it actually looks when you're click on the edit button.
Room for Improvement
To be honest with you, I struggled to come up with things I think are in need of improvement. There were a few small elements I found in the forums, but I also saw how quickly the team behind Ajax Edit Comments responded to those requests and questions. If there's one thing I can think of it's not so much something wrong, but more something missing. To me Ajax Edit Comments seems to be full package deal when it comes to anything comments. You can already move comments, moderate, mark as spam, approve, delete, blacklist and E-mail the commenter. The only thing missing to really allow for that claim to be true is the ability for users to report comments as unfitted. That, to me, would make this already very complete plugin absolutely finished. But to be honest, that's me nitpicking.
In Conclusion
One thing I haven't mentioned yet is the price. Prices start at $25 per site per year to $75 dollars per year for unlimited sites. The developers version will set you back $150, only once.
You decide if it's worth that money for you, but I have made up my mind already; spending a few bucks to get this awesome edit comments functionality added to my sites is worth every penny. Still not convinced? Have a look at this demonstration video on YouTube.