There is a lot of information to process from an Amazon Affiliate guide. Making money online is not as easy as some would think. It requires you to research data that will help you formulate a strategy in place for its success. Also, it's not simply about getting the most traffic to your niche site. To develop profitable affiliate sites, you need to find the best ways on how to convert your visitors into buyers so you can generate profit.
However, despite the obstacles along the way, your affiliate marketing journey should be a gratifying one as long as you stick to the best practices and make the most out of your opportunities.
In this post, learn how you can profit from the Amazon Affiliate Program by creating a content strategy focused on converting visitors into buyers so you can earn commissions with every transaction.
[bctt tweet="Learn how you can profit from the Amazon Affiliate Program by creating a content strategy focused on converting visitors into buyers so you can earn commissions with every transaction." username="blpro"]
A quick Amazon Affiliate guide towards profitability
1. Finding out your niche
The best way to determine the niche of the site you're building is my hopping onto Amazon and browsing for product ideas. Find products that you think you can sell on your site. Normally, choose products from a niche you're passionate about. It's crucial that you have a genuine interest in the niche so you won't get burned out from writing content for it. Also, you should find products that are reasonably affordable – target on making a profit from quantity.
Along with your product search, determine the keyword difficulty of the niche you're targeting. The idea is to find keywords with lots of monthly searches. A global search volume of 1,000 for most of your target keywords should be good enough. The higher the figure, the better! For your keyword research, you can use Ubersuggest so you can get a good estimate of a search volume without for free.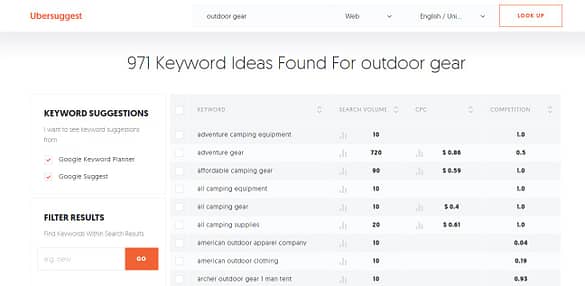 Lastly, you need to find the competitors in your space. Search for your target keywords on Google and Bing and find websites that closely resemble the niche site you have in mind. Keep track of your competitors so you can copy the good things they're doing to help fast-track your site to success.
2. Choosing a domain name and web host
Some people choose a domain name with the keyword found in it. Nowadays, you don't have to consider including the keyword in the name. What's important is creating a brandable domain name that people can associate with your site. Branded domain names also appear more professional and less spammy than their keyword-rich domain counterparts.
Your web host determines how fast (or slow) your site will load. Hosting platforms with great servers cost more than platforms that don't. However, don't skimp on your web host so that you can save a couple of bucks. It's better to spend on hosting services that offer seamless service now than deal with the repercussions of subscribing to a sub-standard hosting platform.
3. Installing your niche site
You've probably heard more than enough about WordPress as your CMS. I won't lay down the details here, but it's best to build your site on this proven platforms. It's relatively easy to use, lets you customize from the ground up, and offers lots of extensions to help you supercharge your site without tweaking the site's code.
As for the recommended theme, I'd choose Genesis Framework. It's arguably the fastest loading and most trustworthy WordPress theme available. It's also a breeze to use and customize so you won't have any problems tweaking the theme to achieve the look and feel you want for your site.
For required pages on your site, you need to create a Terms and Condition, Privacy Policy, and Cookie Policy pages on your site. Since GDPR is in full effect, you need to observe its rules and regulations so you can cater your site to your EU audience. Setting these pages in place is a step towards the right direction. To help you generate these pages, go to GetTerms.io and create your customized paid policy pages. Also, you need an Amazon Affiliate and FTC Disclosure page to inform people that you earn from every successful transaction.
Aside from these, you also need to create your About, Contact, and Home pages to help your visitors navigate your sites much more seamlessly.
4. Download plugins to use
Below are essential plugins that you need to install on your niche site to help you make the most out of it:
5. Develop and implement a content strategy
As a blogger, you should have the basic skills to write blog posts that attract lots of visitors. With a niche site, however, you need to take your game up a notch by developing a long-term strategy of creating a stream of great content on your site to generate even more visitors.
First off, you need to generate content ideas from proven topics related to your niche. Hop onto Buzzsumo and search for your keywords there.
You will see pages related to your keyword search with the most shares. IF the result shows lots of pages with thousands of shares, it means that there is genuine interest in the topic. Therefore, you need to create content about the same topic using the pages from the search result. Create even better content from the ones with the most shares so you can get even more tweets and likes than the rest!
For example, you can create a review site just like USA Outdoors did. Using the keywords you researched, you need to create content written to rank for that search term. You can lump together items under the same product type and compare and contrast each.
Another content idea to publish on your blog is a buyer's guide. Basically, you list down different Amazon products in a post and describe what it does. By guiding readers about each product, you help readers make an informed decision on which to buy.
A great example of a buyer's guide is this one about the best solar camping lanterns.
Creating content is a long-term undertaking. As a blogger with other projects or clients, it would probably be best if you can outsource the content from an equally capable writer on the cheap. Doing so will help save you a lot of time from implementing your strategy so you can focus on building the site and getting the most conversion out of it.
6. Optimize your site further
At the very start, you need you to observe the best on-page SEO practices across all your pages. If not, then you need to start optimizing each of the important ones now before the pages pile up. Yoast SEO will help you observe the practices so you won't have to cross-reference the practices from a separate page. As much as possible, you need to score green on your total SEO and content scores to ensure that your site pages are optimized enough.
As for your dreaded link building strategy, you simply need to strategize your content creation alongside your off-page optimization. In other words, before creating content, you need to find link building opportunities so you can tailor your content to garner those links. Below are a few examples:
Blog commenting– Find blog posts relevant to your niche and find questions or points of discussion in the posts that you can use as subtopics in your content. Once published, you can link to your post to help further the discussion.
Q&A sites– Since sites like Quora don't pass link juice, your best bet with Q&A sites is to create compelling answers that will encourage readers to click to the link in your answer. Therefore, you need to look for questions about your topics that you can answer in your content and use that as a jumping point to introduce a link to your post.
Guest posting – Find sites that accept guest posts and write a post that links to your content (assuming that the blog allows that). If not, make sure that you can link back to your homepage on your author bio.
7. Optimize your content for conversion
Once you've established your content pieces in place, you need to get insights on how your target audience interacts with your site pages. As mentioned, it's not enough to optimize your site pages for traffic – you must make sure that they are buying stuff from your site. It's easier said than that, which is why you need to enlist the help of tools to make tracking much easier for you.
Aside from Google Analytics to track your site's traffic, you can use a tool like TruConversion to uncover the links that your visitors click the most, which part in your sales funnel they are dropping out the most and more.
The data it provides will help you understand why your site is performing the way it does and what you can do to make it perform better. For example, using the tool's Heatmaps feature, once you know which part most of your visitors leave your page or where they click the most, you can move your CTAs before most of them leave your site so you can squeeze out more conversions that way. This is just one of the many ways you can improve your conversion rate – make sure to test and analyze if the changes you made increased your conversion.
Is this Amazon Affiliate guide clear enough?
Let's face it – we need a much more comprehensive guide to help you make sense of your Amazon Affiliate journey. There's so much to unpack with Amazon Affiliate that this post may not be enough to help you synthesize everything that you need to learn about making money from its program.
If anything, however, this guide should help you gain a better idea of how Amazon Affiliate works and encourage you to do your own research on the subject. Earning commissions from Amazon is a rewarding experience, and this post should be proof of that.
Related posts:
How to Sell More Products on Your Blog with an Amazon Store