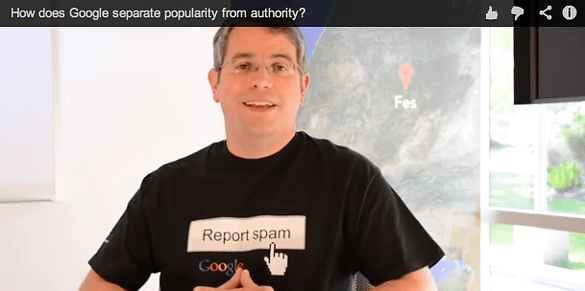 While it's been said so many times that Google does not equate to the whole of the Internet, we all know just how much we rely on Google; and when it comes to Google Algorithm changes, online content creators, publishers, and bloggers all can't help but think about how the changes will affect their sites.
Truth be told, we've been hit by Google penalties ourselves, and it is not always easy to bounce back from those hits. Good intentions when it comes to content and all, we have to pay attention to other factors that are taken into consideration when making Google algorithm changes.
Of course, we do not know the exact details of what they are doing, but Matt Cutts, head of the web spam brigade, is never shy to share some ideas and tips about Google Algorithm changes. In this latest video, he talks about how the upcoming changes will differentiate between an authority site and a site that is merely popular.
One thing that particularly stands out is the emphasis that Matt Cutts is putting on a blog staying on topic. Now, of course, Google has a lot to say about what topic your blog ought to stay on – or something like that. To be fair, though, if we take a look at BloggingPro, for example, it should stay on the topic of blogging, which is arguably as expansive as the Sahara Desert. While I would think that our topic covers anything from writing to blog design to using WordPress to content marketing to taking advantage of Facebook, Google+, and Twitter, who knows what Google thinks about that?
Anyhow, here is the full video with Matt Cutts talking about popularity versus authority and the upcoming Google Algorithm changes. Tell us how you feel about this in the comments?