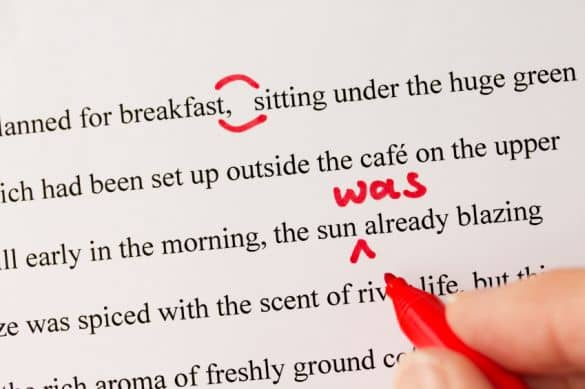 There are lots of things to worry about when writing on your blog.
You need to write your idea into sentences and paragraphs, each of which will transition into other ideas to form a cohesive whole.
You will also have to take into account what your readers want so they can keep visiting your blog.
But at the very core of good blog writing is correct grammar, spelling, and use of punctuation, not to mention unique content. Worry about these first and everything else will follow.
If you need help with writing error-free posts for your blog, use the tools listed below.
A cause of writing errors is distraction. The more divided your attention is from writing, the more chances that you will commit grammatical spelling errors.
The Calmly Writer is a Google Chrome extension that will help you focus on writing your posts. Once opened, all the distraction from your screen will disappear. The "focus mode" will enable you to edit one paragraph at a time. You can choose from regular white mode to "dark mode."
You can format the document and save it on Google Drive. The tool's responsive design provides optimal viewing of your document on any device.
Grammarly is another Google Chrome extension that detects mistakes you have committed in your writing. The tool detects grammatical, contextual, and spelling errors. When writing your post on WordPress, Tumblr, or even on Facebook and Gmail, Grammarly will tell you the mistakes you've made and how you can correct them.
Another awesome writing tool, Hemigway cuts down the clutter in your writing to its bare essence. Inspired by the simplistic and effective writing of Ernest Hemigway, the tool detects hard to read sentence, passive voice, and adverbs. Paste the post on the editor to see the errors.
It also displays the readability index by referring to the grade level. The higher the grade level, the more difficult the post will be to read. Strive to make the readability index of post lower so that more people will be able to understand it.
When rewriting content on your blog, you must be wary of committing plagiarism. The rewritten post must not only be unique, but is also readable. That said, article spinners are out of the question.
By failing to make your post unique enough from its source materials, the post become duplicate content. As a result, your blog will get penalized by search engines and will lose significant amount of organic traffic.
To prevent this from happening, run your rewritten posts on Unplag. This plagiarism detection engine compares your post to 16 billion online pages and documents and informs you of any duplicate issues. Once the issues are found, you can reedit your post to make sure that it is unique before publishing.
If you write your post using a self-hosted WordPress blog, download this plugin.
After you have finished writing your post, click the Proofread Box button to see a report with style, grammar, and punctuation issues.
Users can only run one (1) free check a day with a maximum of 600 words. To enable more checks a day, you need to purchase the package of 1 cent for every analysis.
More on blog writing: