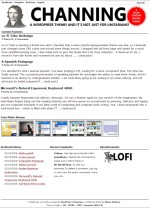 Another one column design, this one highly dependant on plugins though.
I recently redesigned the theme of Lo-Fi Tribe, as all of you are undoubtedly aware by now. I am quite taken with the quest to find a design that seriously balances overall aesthetics and content priority. In other words, I want a very attractive and pleasing design to be "Content-Centric." My last design was very good at doing just that, at least in my opinion. It was aesthetically pleasing but also directed readers' attention toward the content, which is the point of any blog. I am still tweaking the "Content-Centric" theme idea and as a result have moved onto a new design. My previous design – which again, did make content the priority without sacrificing aesthetic layout – is now available for download.

I have decided to make previous themes available to the public when I move on to a different design. I have tagged this design with the name "Channing," after the great, early New England, Unitarian minister William Ellery Channing. Channing is a theme I threw together for personal use, but have now decided to release it for public consumption. Everything is valid XHTML. The CSS validates too. Feel free to use the theme under the conditions that the credit lines in the footer remain intact. My CSS is sloppy, by some standards, but it works great and validates!
Grab it at Lo-Fi Tribe