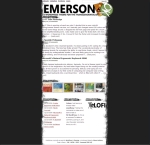 For a more grunge looking site, there is now Emerson, released by Lo-Fi Tribe.
I whipped up another WordPress theme which I have tagged with the moniker "Emerson," named after the very familiar 19th century author, intellectual, and Unitarian minister Ralph Waldo Emerson. Emerson left the Unitarian ministry to pursue a full-time career in writing and speaking. I think he made a pretty good career choice, if his standing in the world of classic American literature is any indication. He also established Transcendentalism as major American religious and/or philosophical expression with the publication of an essay titled "Nature." Emerson was an unique and artistic thinker, to say the least. This theme is an attempted reflection of that sort of approach toward life.
Grab it over at Lo-Fi Tribe.