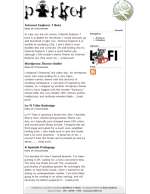 From the creator of Channing and Emerson WordPress themes comes Parker, a two column theme with an almost graphicless design.
"Parker" is the third and final flavor of my "Prophets of Religious Liberalism Theme Series." This theme, like the other two, "Channing" and "Emerson," is both XHTML and CSS valid. "Parker," while a flavor derived from the original "Channing," as is "Emerson" by the way, is usable right out of the box. There are no plugin features or requirements included with "Parker." Simply upload this theme, activate it, and you're ready to go!
Check it out over at Lo-Fi Tribe.