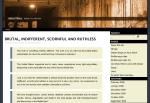 Over at Jeriko One, two themes were released, and the first one I am going to mention is Industrial, a two column, graphically simple theme that was not going to be released, but after doing some work on it, he decided to release it to the WordPress world to be worked on.
Industrial is a theme I've put together in about two days, mainly to get some routine in WordPress theming. Unfortunately, I don't have the time to fix all errors or add new functionality. But, before it goes to /dev/null, I thought that some of you might like the looks of it and use it as a base or something like this.
So if you are looking for a project, maybe getting Industrial to 100% would be a good way to get into WordPress theming.