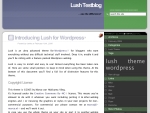 The second theme from Jeriko One today is Lush, what he considers an ultra advanced theme.
Lush is an ultra advanced theme for WordPress for bloggers who want everything without any difficult technical stuff involved. Drop it in, enable it and you'll be rolling with a feature packed WordPress weblog.

Lush is easy to install and easy to use! Almost everything has been taken care of. Here are some small pointers to keep in mind when using this theme. At the bottom of this document you'll find a full list of distinctive features for this theme.
Some of the features included are:
alternating trackback styles
customized live search
customized table-less comment form
customized categories page
various script.aculo.us visual effect enhancements
full gravatar support including a fallback default gravatar that fits with the theme
XHTML 1.0 Strict
Builtin support for Ultimate Tag Warrior, Gravatar, flickRSS and time since.
Check it out at Jeriko One.