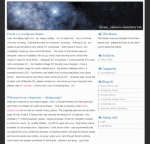 A two column theme from ikram zidane with a beautiful starry header.
the name of this theme came up because i was so frustated with my pc which was slowing down all the time.. (really in need for more RAM)… designed for wordpress 1.5 and hopefully it'll works with wordpress 2.0… this theme validates xhtml 1.0 transitional and CSS1. This theme was tested and working beautifully with opera, firefox , internet explorer and flock
Check it out at ikram-zidane.