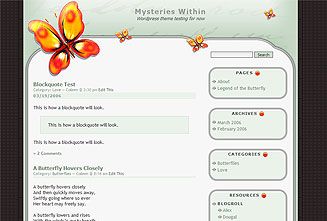 A two column theme with an image of butterflies, some light green highlights, and some rounded edges in Flawless Imperfection.
This theme features butterflies and not much else. It's ideal for personal blogs. Name inspired by this quote, "Better to do something imperfectly than to do nothing flawlessly. – Robert Schuller".

This theme features collapsible/expandible content boxes on the right side. You need to edit "collapse.js" to include the url to your theme images directory. You can change which boxes are expanded/collapsed.
Check it out at Mystical Twilight