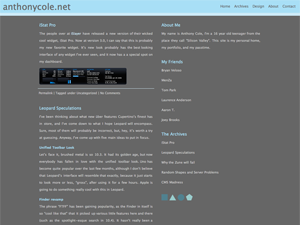 One of the first people to send me a submission for my vacation was Anthony Cole, a football playing geek in Silicon Valley, California. He wanted the world to see his Minimalistic Blue theme for WordPress, and I can see why. It is a simple two column theme that is easy to extend and change.
He was even nice enough to give me a few more details on the why and how of his theme.
I created my theme originally because I wanted something rather simplistic. I had looked at what was out there before I took a shot at it and I didn't really see anything that fit the bill. I needed something that was lightweight, simple, and extendable. I targeted it at people like me, who wanted something that was readable and easy to navigate. It's really a simple theme and I want to keep it that way.

A few people that are using it now are:
http://www.sarapcalledmeemo.com/
http://loudestnoise.com/

Most of them are customized to some extent, and I like it that way. As I said earlier, I created this theme to be extendable.

I got alot of compliments on my theme, and it was eventually featured on CSSMania and a few other sites. So I decided "Why not". There was no real benefit to me not to release it, and in addition, a few people were nagging on me to do it. And so I took mine and modified it a little bit (removed the header, cleaned up a few things, etc.) and released it.
Very good stuff. Check it out at AnthonyCole.net.