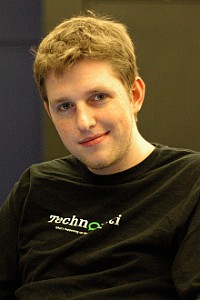 I recently was lucky enough to secure a few minutes with Matt Mullenweg, one of the people that took it upon himself to create WordPress. Being so busy, I expected him to say "no" when I asked, but he didn't and so here is the interview.
1.) Most people that read this site know you thanks to WordPress, but I am sure there is more to you than that. Could you give a few details on the other things you have done?
1. I once climbed to the top of Masada.
2. I did a jazz arrangement of Mario Bros music for a saxophone quartet and played it, which you can find on the net if you dig.
3. I've been very lucky in finding folks smarter than myself and hiring them for a funny little company called Automattic.
4. I'm an adviser to Sphere, and I dig their stuff.
5. I take a lot of photos, but I'm really behind on uploading them.
2.) Can you give us a quick history on WordPress? It was not just you that decided a fork from b2 was needed, correct?
Thanks to the wonders of permalinks you can actually read the comment where WordPress was born, from a swell fellow named Mike Little. We started by integrating his links code and some of my texturize/autop stuff and then worked a lot of creating the options system (moving stuff out of config files) and simplifying the install. Add in a new default template, XHTML compliance, and remove all color from the admin interface and you have WordPress 0.70, which was used by approximately 5 people including myself and my cat.
3.) I am sure everyone has an opinion on where WordPress should head over the next year or two. What is your vision for WordPress (both .com and .org) and where do you see your biggest competition?
I would love for WordPress.org to have fewer options and a more streamlined administration, and a richer way to interact and update plugins and themes.
For .com I'd like to see some really rich customization options and a lot more effort on the internationalization front, and to continue the lack of downtime we've been lucky enough to maintain. We're also experimenting with some .com stuff that's going to make it super-fast, but I can't talk about that yet.
The biggest competition is probably Google's Blogger. I don't take competition too seriously, you have to do your own thing and not focus on other projects, but where services or features are particularly successful I have no problem examining them to find the underlying elements of coolness to consider integrating into WordPress.
I don't consider any GPL software competition, because development on one piece of software can directly benefit another, and I will always promote other open source software whether it does the same thing as WordPress or not because at the end of the day we're all really on the same team. I believe Open Source is the future.
4.) What's to stop some big company from taking WordPress dumping a bunch of money into creating some Knock-OffPress and mass marketing it as a way to gain attention for other services or products they have? After everyone moved to WordPress when Movable Type's pricing structure changed, how confident are you that WordPress users would remain loyal or what could Automattic do to compete?
I have no problem with someone creating Knock-OffPress — that's one of the freedoms of the GPL and those who would trade freedom for security of their business deserve neither. (Hat tip.)
Frankly if someone could take a product we wrote and do a better job with it then they deserve the success. It has been tried before. It's not really something I worry about a lot.
Don't forget Automattic also has a strong business around platform-agnostic tools, like Akismet, that are licensed by several people who could be construed as competitors to WordPress or WordPress.com. We'll roll out more of those if we see other urgent needs in the blogosphere.
5.) What's Automattic's next move? I know you have been focusing on the next versions of WordPress, and your great Anti-spam service Akismet, but with the people in the Automattic now and your great eye for filling a gap in the marketplace, could you give out any hints on what we can expect next?
Sure. There has obviously been some renewed interest in bbPress, and Mike has been doing a great job there. We'll probably roll out a hosted version of that someday when it matures enough.
We've got a few plugins and services we've cooked up internally that we're going to provide to open source, including a little todo/project management app. We'll probably expand the company bit, maybe to 12 by the end of the year, and we'll almost certainly break the half a million mark on WordPress.com by December.
6.) I watched the video with you on CrankyGeeks. You handled yourself really well, and it was nice to see you via video online. What do you think of the video and audio mediums online? And do you think people will shift away from publishing text on the WordPress platform and switch to video blogging on YouTube or another such service?
Thanks! Video transcoding and such would be really hard to do inside of WordPress.org, so I imagine there will always be a market for web services that make that easy to host and distribute video for free. I think the success of services like Flickr and Youtube add to blogging, not take away from it. I'll give you some private stats from inside WordPress.com.
On any given day, about 5% of the entries posted to WordPress.com contain a Flickr photo, and about 3% of the entries embed a Youtube video. We're talking about tens of thousands of posts every week embedding Flickr or Youtube content, and I think that's great.
Blogs serve as a personal aggregation point for people's online activities. You might spread your junk all over the web, but most people like to bring it back together in someplace they own and can call their home, and for many that's their blog.
I think these services are introducing a lot of people to the concept of creating content online, and as they mature and their needs grow theywill find their way to blogs, and the savvy ones will end up on WordPress.
Finally I would never count out text. Words have been with us for a very long time and I'm betting people will need a good way to press them for any lifetimes to come.
7.) You recently added domain registration and mapping for WordPress.com. Will you ever be moving your personal blog photomatt.net to the WordPress.com service? Or has that already happened, and I did not notice?
It would be really easy except for the photolog which has over 13k photos and is well over 10gb. But even if I figured that out I would probably keep them separate simply because it's hard to develop for something you don't use, and I want to continue using both .com and .org every single day.
Thanks again to Matt Mullenweg for taking the time out to answer a few questions. Hopefully, some of you will find what he has said as interesting as I did.
photo via Dries Buytaert