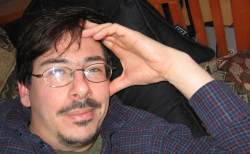 Recently, I was going through a list of people I would love to interview/talk to, about their roles in blogging and the blogosphere, and one of the names that kept on popping into my head was Tris Hussey. So I tracked him down, and bugged him to do an interview with me.
While he couldn't do it right then and there as he was a speaker, and live blogger at the Blog Business Summit, I was able to get him on Google Talk later in the week, and ask him some questions.
Me: First off, tell me a bit about yourself. Tris is an interesting name. Is it short for Tristan, or what's the etymology of your name?
Tris: It's short for Tristram, which is the old English version and pre-dates Tristan. The meaning remains unclear, though some say it relates to Triste (sad).
Me: What makes Tris tick? You are from the west coast of Canada, right?
Tris: Well, I live on the West Coast now, but originally I'm a New Englander (go Red Sox!) What makes me tick? A lot of it has to do with being a geek at heart and liking to goof around with new stuff. The rest is that I have found a niche and passion in writing about tech and new media.
Me: Can you tell me more about how you got into blogging? When did you start, and who was your inspiration?
Tris: I started blogging in the days when I was in market research and bored that I couldn't play with collaboration apps at work, they just weren't into it. So I decided that I needed to kick start my consulting practice and needed to get into this blogging thing. That was April 2004.
I had started a blog before then, but deleted it (which is a shame because then I could say I had been blogging since 2003)
Me: So we are quickly coming up on more or less your third year in the blogosphere. You are one of the ancient ones when it comes to online publishing then.
For all of those out there that have not heard of Qumana, what can you tell me about the company and what it provides?
Tris: Yeah I guess I'm old guard now, eh? Well Qumana started off as just an offline blog editor.
The first version was pretty advanced, probably too advanced for its time. So now the application is much simpler.
About two years ago I had a flash of brillance (they don't happen often) and came up with the idea of "post-centric advertising". This gave birth to Qumana now… an application with a simple way to insert keyword-generated ads into your posts.
Me: Kind of like Adsense?
Tris: Yeah, but focused on content and letting authors control whether or not they want an ad in a post and what the ad is for. So you could write about kids toys and have an ad for fly fishing if you so desired (clearly not a good idea though). But the point is we give the control to the author, not a server.
Me: I noticed your blog a View from the Isle has no "powered by" logo on it. It looks like Typepad but it says Blogware on it? And which software is your favourite thus far for blogging?
Tris: Yeah I took the Powered by off my posts because it was mucking up me tracking other people using Qumana that's why I put the graphic on my blog. So, yes it's a Blogware blog, they have sponsored it for about two years now.
My favourite for DIY is WordPress, my favourite for completely free is WordPress.com. Hosted, well that's hard. I'm not a fan of Typepad, but they are leaders and offer good stuff. I like a lot of the features in Blogware though.
Me: So you have used just about every blog software out there. That's pretty nice. Why Blogware though? Its not one I have heard much about.
Tris: I have, I've tried them all at some point. When I wanted to move my blog off of Blogger a friend had just become a reseller for Blogware. You don't hear much about it because of the Tucows reseller model.
Me: What do you think blogging will be like in two to five years? Will there still be professional bloggers or will main stream media come in and be the only source for paid blogging?
Tris: I think blogging in 2-5 yrs will just become more about "writing". Because there is always a market for writers/content providers, there will always be a market.
Me: So you think that mainstream media will have to compete against blog networks and whatnot like b5media? Or will they just buy out such companies/networks?
Tris: I think they will have to compete and leverage the content being generated. I wouldn't be surprised if online versions of MSM outlets (and maybe even the dead-tree versions) pay bloggers for their "columns"
Me: We can only hope… Google… I am available if need be…
Tris: lol
Me: You seem to work for a wide variety of different companies, networks and independantly. Give me a quick rundown of who all do you work for now and how much time do you spend blogging in a day?
Tris: I keep being amazed at how fast things move … I think we're going to be blown away by what's around a year from now. I pretty much blog all day. So I write for myself, Qumana, and b5media. Then I contribute to Business Blog Consulting as well.
I should start doing more blogging on BigBusinessJet.com soon as well. There are other cool things in the works that I can't talk about yet.
Me: Can't give any hints or tips? Like…stay away from blogging about that subject.
Tris: Hmm… essentially, I might be contributing to a pretty high-profile blog that you might have heard of.
Me: That's great. I can think of a few that you have "access" to, and I will be watching to see what happens.
Me: So, lastly… If you were to give one tip to all the bloggers out there aspiring to achieve as much as you have, what would that tip be?
Tris: write everyday. Every day. It really is the practice makes perfect. If I could give another, it would be to read lots of sources.
Me: What is lots of sources for you?
Tris: Well I'm in the 600-700 range. But generally don't just read blogs, read places like the BBC, CBC, Google News. Getting out of the echo chamber is essential.
Me: I totally agree. Thanks again for taking the time to do this Tris.
Tris: Your welcome, it was great.