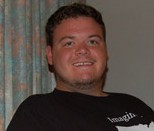 Recently, I had a chance to talk to Justin Shattuck of justinshattuck.com which can be described as:
"A glimpse into the subconscious mind of Justin Shattuck; developer, critic, designer, and successful entrepreneur. Consider the content more-or-less your daily mental diuretic of useless information and ramblings. Amazingly, on occasion, there is some pretty decent writings."
Warning, this interview is long, but really interesting. We cover personal thoughts an opinions from WordPress to the guys at Hitch50.com.
David: Anyways, thanks for doing this Justin, I know you are busy with a variety of things.
Jumping right in though, you are an information services and technology specialist, what is that like? I am sure that does not define who you are, so what words describe Justin on a day to day basis?
Justin: It means I better know my stuff!
Honestly, individuals come to me and ask me questions related to technology; solutions and conflicts. I'm supposed to be the guy that sits back and gives them an answer or knows exactly where to find the answer. People trust my opinions and suggestions; I have to know what I'm talking about. Everyday brings a new challenge, a new idea and a brand new hurdle.
My career does not define who I am; personally. Who I am has defined my career. I always rationalize and analyze everything in my life. From choosing a girlfriend, purchasing a website or starting another project. I evaluate and pay equal attention to the smallest of variables. I'm a thinker — and a doer. Describing me.. its funny, my friend Molly described me best in an article on her personal website.
I'm no super hero..
David: You and I have been talking back and forth for quite some time now, and that is due in part to your interest in the WordPress community. You have created plug-ins and themes for WordPress. What got you started in Blogging and WordPress?
Justin: Man, looking back into when I started blogging is a blurry time line. If the term blogging meant what it does now, eight years ago.. I guess you would say I started in 1997. However, back then we were simply logging our thoughts online in our great 'journals.' Moving on over time I tried out every content management system available. In 2001 I started coding my own CMS.
Although it wasn't meant for public release, I utilized it to power some of the websites I was developing over the years. Once I decided to sell off the code to another individual, I decided it was time to find something else. After toying with other systems, like Serendipity (s9y), Movabletype, Typepad, and expression engine — I somehow just got sucked into WordPress.
David: Good, another WordPress convert. Everyone knows how I feel about WordPress.
Justin:WordPress seems to be community driven, both on the development and support. Not that there aren't a lot of projects out there in the GPL world that aren't supported as such, WordPress is just different.
As far as plug-ins and themes, I can't take all the credit. I get inspiration just like anyone else. If I run into an issue I think needs to be resolved I begin hammering out plans to fix it. I still have four other plug-ins that I utilize on my personal website, as well as seven themes that I want to release.. its all about the timing.
Its people like you who keep me doing what I do..
David: This brings me to your personal website domain. I recently decided to shift from one online alias to a domain that included my first name. You currently are using your first and last (JustinShattuck.com) as your domain. How have you found it for a domain (good traffic, good search engine results), and why did you choose your name?
Justin: I'm not sure that there is really a better option for me. I'm out there, I'm a crazy guy. I guess for me there isn't a better place for someone to find me online — than my own name. I've thought about a few other domain names in the past but there hasn't been one to really hit me and say, "USE ME USE ME!" Therefore, by default justinshattuck.com is used.
The traffic seems to be traffic. I get a lot of visits from people searching for other "Shattucks" in the world. The search engines seem to be nice to me and I can't complain.
You have another domain name in mind for me? Maybe I could grab phoenixrealm from you?
David: Unfortunately not on both accounts. I think using your name is a great idea, despite the possible spelling issues that people might have. Your last name is not the most common in the world.
Justin: I've heard it all when it comes to mispronunciations, spellings and such. You can probably imagine the possibilities…
David: I can imagine. Try having Peralty as a last name. I get Puralte, Peralte, Perralty… It never ends.
Justin: Your last name is Peralty? Oh boy, I'm in the wrong interview…

David: HA! Anyways, enough making fun of my strange last name.
I am sure you have noticed that the blogosphere is always shifting quickly, where do you see it heading, and what do you hope your contribution will be? When they look back will they only remember you as the WordPress Bannage guy?
Justin: The WordPress Bannage guy, that has a nifty ring to it. I don't want to be remembered. Its the guys that are remembered that have to keep up with an image. Always working harder, faster and smarter than everyone else. I don't like to be number one at anything I do. I absolutely love being number two. It gives me the opportunity to see what the bigger guy is doing and find his mistakes.
The sphere doesn't change, it evolves. Evolution happens with everything, its expected. The trends are all in funky places right now. A year ago, everyone was setting up niche and micro-niche blogs, specifically for a single subject. I can't think of a single niche-blog I read any more. I definitely feel the quality is dropping.
I honestly don't have a statement as to where it is going. I don't pay attention to tomorrow. I do all I can today and make sure I have a feeling of accomplishment. As long as I am accomplishing something, everyday, that's a day I'm happy. Tomorrow will worry about itself, no need to rush it.
I am very disappointed with the quality on the sphere in relation to WordPress. In my opinion, free themes are starting to lack character and plug-in development has really slowed in purpose.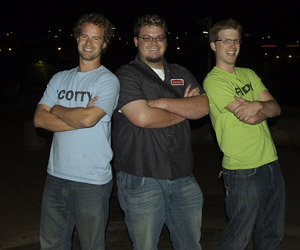 David: Well, I want to thank you for something more than this interview. Recently, I got a chance to interview Scotty of Hitch50.com thanks to you. Can you tell me what the experience was like, and what made you jump in your car to go pick up two guys you never met?
Justin: Why not man. It isn't everyday you have the opportunity to really get face to face with some of these goons doing crazy projects. For me, it was more than just jumping in my car. Being an entrepreneur, I immediately realized the ultimate goal of this project. I enjoyed the concepts and I was thrilled I could help out.
Scott and Matt (Scotty and Fiddy) weren't strangers to me. They were simply friends I hadn't had the opportunity to hang out with yet. I had been working out some details for a little while prior to their arriving in the area. I got a hold of my buddy Brian and asked him if he wanted to accompany me on the journey to Oklahoma City to pick the boys up. He was thrilled as well.
I'm all about meeting people on the Internet, I am a big guy, I don't think someone is going to kidnap and harass a 6'3" 280lb guy that looks like a wholly mammoth! It was definitely an experience. Everyone seemed to want to ask questions, obviously, they were all over the press.
Unbelievably though, not many people knew who they were. I can't recall a single time when were walking around somewhere, eating or drinking and someone go, "Holy mother! You're those two guys.. oh.. uhh uhh Scotty and Fiddy right?!" It just didn't happen. We sat in a local pub, Caz's and discussed future plans, ways to boost traffic, all sorts of things.
They're just two normal guys, right out of college trying to build their resume. I think they're doing a great job. It isn't just anyone who can say, "I came up with an idea and within two hours of execution gained national media coverage."
Anything specific you're curious about? I have endless amounts of stories about those guys; we trusted one another so we really told some funny stories. I recall visiting a convenience store outside of Topeka, Kansas, going inside to use the restroom and buy some smokes, keys in car and trusted them not to run off. It seemed natural for me.
David: Not that I can really think of… You mentioned future plans and ways to boost traffic. Does that mean you are continuing to work with the Hitch50 boys? What kind of stuff are you doing together? Anything you shouldn't be telling me, but will because I am just such a great journalist?
Justin: Yes, I am still contributing to the project and keeping conversations going with the guys. I'm more working behind the scenes now, promoting them through various other projects and web resources. They have some great technology behind the website that should be shared. It isn't anything new, it is something that isn't utilized yet and I feel it should be.
Wow, in regards to something I shouldn't share that I could — bit of a weird question. Let me say this, it won't be the last time you hear of Scotty and Fiddy. There are tons of video feed being captured. I'll leave it to your imagination, it will be bitter sweet.
Justin: Curious, am I allowed to ask a question myself? Why me? Why would you want to interview the black sheep of blogging? Am I really doing anything in weight to others in the community. I feel I am just another guy in the big scheme of things.
David: I will allow it…just this once though. No getting carried away.
The WordPress community is larger than just the people that post on the WordPress support forums, and the blogging community is even larger. Getting people from all walks of life, and point of views is very difficult, but I am blessed to have met some really great people over the last year of my life. People that I feel deserve to be featured in the limelight, even if it is only for a minute.
There are no black-sheep in blogging…there are thought leaders, and the echo-chamber. I believe that you are a thought leader
Justin: I'll entertain that.
David: Thanks Justin for taking the time to talk to me. It definitely seems like you are taking a more active role online than you give yourself credit for, and I think there are many people that will be watching you and what you are involved with over the coming months and years.