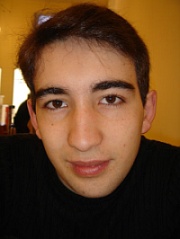 Being part of a blog network, there are some people I work with everyday that are constantly writing some of my favourite things to read, and Marco, of ForeverGeek is one of those people. I got him talking blogging, and next thing you know, an interview was born.
David: Thanks Marco for talking with me today. Thankfully it seems I have caught you right in the middle of a writers block, but hopefully you'll have some stuff to say on the questions I have for you.
First off, tell me a little bit about yourself. You aren't in North America, the UK or Australia, better known as the "normal place" for probloggers right?
Marco: My name is Marco Jardim, although I'm more commonly known as Griffith on the Internet (Griffith, by the way, is the name of one of my favorite Manga characters, from Berserk, by Kentaro Miura). I'm 22 years old and currently I'm a college student and a professional blogger for ForeverGeek.
I have more than 2 years of experience in Web Design and Development for a local company called InforQuali, and I also had a short experience in computer tutoring in another local company called Arquimedes. After almost two years of working with InforQuali, and with my former employers' support, I decided to take a Computer Engineering course in the only College that had it on my island.
My "passions" are my girlfriend (obviously), computer gadgets (I always seem to find another one that I need want), and web design and development, which were my areas of expertise in InforQuali. I also have a strong interest for oriental cultures, from their history and food to their music and art.
That's correct about where I live. I am in one of the places of the world where you wouldn't expect to find a problogger: Madeira Island. A very small island that you can drive around in less than 4 hours. It is situated southwest from Portugal (Europe) in the Atlantic Ocean.
David: Strange place to hail from. Must be hard sometimes as it can't be known for getting technology first?
Marco: Actually, I get technology last, or on a similar date to some less developed countries. Not only because I live in Europe, but also because I live on an island, therefore I only get the newest gadgets 3, or more, weeks after they're released in Europe. And sometimes there's a really long delay between a Japan/American release and a European one.
I guess that that delay is due to the large number of different languages we speak.
Here's a recent example. Nokia, which is a European-based company, announced that they would be releasing a new N Series phone, the N73, during July. Only recently did it start to be commercialized in my country, and not all cellphone providers have it yet.
In short, the delay is very long.
David: You have been a writer on Forever Geek for quite some time. Can you tell me how you got into that and how long have you been writing on there?
Marco: Ah… my history on ForeverGeek. It's a very interesting one, or ironic, to say the least. Back in 2004 when Paul Scrivens, from the 9rules network, owned ForeverGeek, he made an article inviting people to join the site as editors. I, with no blogging experience whatsoever, decided to try my luck and sent him an e-mail. And, surprisingly, I got accepted.
At that time, I didn't have a fixed number of articles I had to write, I was free to write as many as I liked. My payment would come from the revenue earned from those articles, however, since I didn't consider myself on-par with the other editors' posts, and I still had much to learn, I decided to let Paul keep my revenues (although, when he sold ForeverGeek, he asked me for my PayPal address so he could transfer my earnings, but I politely declined, for the same reasons as before).
I made a few articles which generated a lot of controversy, and that made a few of the former editors upset. Some of them wanted me out, but, for some reason, Paul decided to keep me on the team, and I learned as much as I could from him, and the rest of team, while he still owned it.
When ForeverGeek was finally sold, most of the former crew left, I was one of the few that stayed. And now, ironically, I'm the editor that writes the most posts-per-day on ForeverGeek. And I hope that I'll continue to be a part of the team for many years to come.
David: You mentioned learning from Paul Scrivens, which leads to the question of how much of blogging is skill and talent and how much can be learned over time? Do you think you started with skill and talent, or did you learn what you needed to as you went along?
Marco: Good question. As much as some might refute with my opinion, I think that you can only evolve until a certain point without talent. Thankfully, my father was a journalist, and my mother also worked in journalism in advertisements and wrote poems. So I guess you can say I have a writer's "vein" from both of them. If I didn't, I probably wouldn't have always gotten good grades in my mother language classes.
As to how that was influential in my blogging career, I think that you can say that it helped me a lot. Perhaps Paul perceived that I had some talent, and therefore allowed me to stay, perhaps he was just feeling nice, as he usually is. I guess I'll never know, but I'm glad that things happened the way they did.
Regarding skills, yes, you need a lot of skill in order to become a great writer, and if you're not particularly great in writing, that is where you have to dedicate most of your time. My father always told me when I was younger to read as much as I could so I could learn how to write better. Regardless of how much talent (you think) you have, it's not enough to become a good professional.
However, David, I'm afraid that there's something else that you need to become a great blogger: you need experience. Sure, your skills will come as you gain experience, but if you don't exercise your freedom of speech, as much as possible, before attempting a blogging career, you might make some dire mistakes.
I've been blogging for almost two years now and I still consider myself rather "novice" in some aspects. There are always new things you can learn, and more ways for you to improve yourself. You can apply that to everything you do in life, not just blogging.
David: Most bloggers trying to go "pro" try to spread themselves outwards onto dozens of sites, and though you work for a blog network, you haven't gone ahead and spread yourself onto multiple blogs (at least as far as I know). Why is that and do you think that is something you would be interested in doing?
Marco: Jacob Gower, the current owner of BloggyNetwork and ForeverGeek, has given me the opportunity to write on other blogs of the network more than once. Every now and then he sends me an e-mail letting me know what he thinks of my work, and asking if I'd like to try writing on some other blogs.
Until now, I have always declined those invitations, because I don't have much experience in some of the subjects of the other blogs, and therefore I prefer not to step in, before getting well acquainted with them. I am also a bit sympathetic for ForeverGeek, because it was the blog in which I was nurtured. If I started writing too early on other blogs I'd probably grow "home sick" from FG, starting my own blog was already enough of a challenge for me.
Lately I've been trying to write some articles about blogging on my personal blog, like "What Chess can teach Blogging" which was recently mentioned here on BP. Therefore I guess you can say that I am trying to spread myself a little, but not abruptly. But who knows, maybe soon enough I'll start writing on other blogs, maybe it will even be on this one. That depends on how acquainted I become, and how well received my blogging articles are.
David: If you had to give a tip to all the bloggers out there looking to make a few bucks from blogging. What would that tip or those tips be?
Marco: If you are only in the blogging business in order to make money, you should realize that there are more profitable professions out there. Back when my father managed my island's most popular newspaper, he didn't earn a good enough payment for the amount of hours he worked for. Right now, blogging is the same.
Most professional bloggers work arduously, sometimes up to 12 hours a day, in order to make enough revenue just to make a living. There are only a select few that make a lot of money.
Some people are more business-oriented than others, others are just more popular, or better writers, or simply more fortunate. I guess that what I'm trying to say is, if you don't have a love for this profession, a taste for writing and the yearn to discover new things every day, then this might not be the most appropriate profession for you, but if you do, I hope that you have enough perseverance, and luck, to make it.