What is it?
Habari is a new blog engine. The name comes from the Swahili word that means "what's the news?" Unlike other blog software currently on the market, Habari will be using more current technologies like object oriented programming techniques, thanks to PHP 5, and some slick interface interactions thanks to AJAX from the prototype library.
They are calling it the blogging system created by bloggers for bloggers, but honestly, you could say the same about other software that is on the market.
Who is involved?
Michael Heilemann, Owen Winkler, Khaled Abou Alfa, Chris J Davis, Scott Merrill and Rich Bowen are just some of the names that have already been added to the roster of developers, designers, and testers.
You might recognize many of the names as people who have been heavily involved with WordPress for some time. It will be interesting to see how many more big names from WordPress jump on board the Habari project.
So far there is no word yet on when any sort of real release will be done, and so that has attracted the attention of many people looking to get their two cents in on what the next blog software package should be like.
What will it look like?
With Khaled Abou Alfa at the helm in regards to designing the Administration page, and Chris J Davis quickly converting the designs into real code, the administration panel is quickly evolving.
Like with any blogging system there are similarities to others that are already out, but the differences make you take note. Khaled has been releasing mock ups as he goes along, and I have included one of the latest over on the right hand side.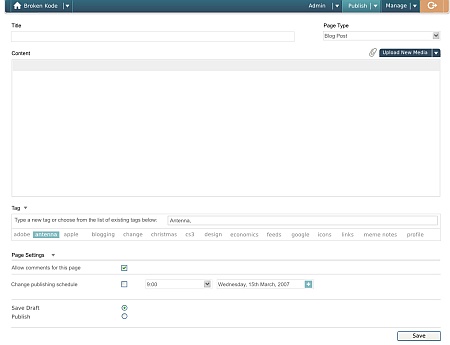 click for full
Currently, I think the design looks a little more barren than I would like to see, but with time I am sure there will be some spit and polish added to the design.
As for the "default" theme, or what users will see after a default install, it looks like Michael Heilmann's K2 is so far the winner, but I hope to see something new and unique added as the default Habari theme, as K2 makes me think WordPress, and I don't know if that is the message they want to be sending out.
Who is using it already?
The first one to jump on board and tell the world about the wonders of Habari was Chris J Davis, who on January 3rd, 2006 decided to take the plunge and use it for his personal site. His post, entitled Changes around Sillyness mentions his participation as a core developer and how he will cover his reasons behind leaving the WordPress community behind soon.
The second person to jump on board seems to be Michael Heilmann. At first I was shocked, as his blog, BinaryBonsai, was my reason for getting interested and into WordPress, so to see him move on to Habari was interesting to me, and made me, and most likely others wonder what the big deal is.
What else can you tell me about Habari?
Well, I can tell you that they are moving really quickly on this project, and that the developers have a great sense of humor. Last time I checked, they had a page in their project, that says Pony, and once you go there, it shows a picture of a pony. How useful…
There is no real website set up for Habari yet, but you can download the source via SVN and start messing around with what they have created so far.
The biggest barriers they have for entry into the respected blogging platform scene is that they need documentation, themes, plug-ins, and a community to support the software. This means taking time away from just developing a useful tool, and dealing with the community needs and wants, and I don't think they have anyone signed up for that task yet.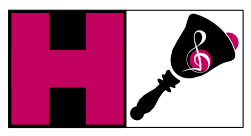 They will also have to do more work on branding. I know Khaled is working on some form of logo for the project, but as of yet, they have been getting thumbs down.
My suggestion, stay away from musical looking logos, and stick with a circle or a square, and decide on a symbol that says "what's the news" or even just keep it simple and do a really nice stylized H for Habari.
Where can I find out more?
We here at Blogging Pro will continue to watch the software unfold and see what new names are added to the list of developers, but don't forget to check out the Habari Project Site, as well as a great write up by Khaled at Broken Kode where he talks about his involvement with Habari, and the reasons why he joined the team.
Of course there is also the WordPress Podcast which in the soon to be released episode 18, it will include statements from Chris J. Davis about other exciting features we can expect, as well as a response from Matt Mullenweg on what he thinks of the new blogging tool.
Note: Links fixed…that's what happens when you copy and paste an article from Open Office…sorry about that.