Continuing from our last success with the Blogging Pro theme, we wanted to continue to release themes for WordPress that had a strong sense of design, and so with the help of Design Disease, we have worked on creating InSense, a two column theme with the popular blue and orange color set that the web is known for.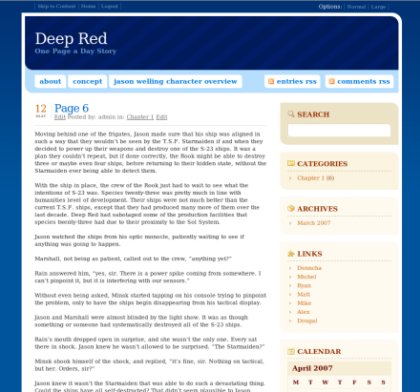 Some rounded edges, some subtle lines, InSense is a very nice looking theme, that would be even easier that our previous theme to modify.
Having such themes created though takes time and money, and so we have gone ahead and added a sponsor to the theme. We want to be up front about this and mention it, as it is not something we feel should be hidden. This sponsorship has allowed us to produce this theme, and will allow us to continue to produce themes for the WordPress community. We hope that you will keep this link intact, but it is not required as part of our Creative Commons Attribution-Share Alike 3.0 license.
InSense is Widget ready though the search box is not moveable, and when using widgets, the different areas will not use the nicer icon graphics that we have set up. It is a bit of a trade-off, but we are limited in what we can make the WordPress Widgets code do.
InSense requires no plugins to run and function.
Check out the Demo.
Released under the Creative Commons Attribution-Share Alike 3.0 License.