I've once been a avid Twitter user, to the point of setting up my blog to automatically republish all my tweets for the day, everyday. But I eventually got tired of how Twitter tends to control one's life–once you're hooked, you find yourself Twitterring all day! So now I only check for my friends page a couple of times a day, and only post updates when I have something relevant to say (and my blog automatically posts updates, too).
And now I'm trying out a new kid in the lifestreaming block and it seems to be growing fast. FriendFeed serves more as an aggregator of various social apps, and this makes it attractive for people like me who have accounts all over. I especially like to monitor what my friends, colleagues, and other people in the new media industry are reading and talking about. FriendFeed helps out in this regard. With 41 external services that users can add, FriendFeed supposedly makes it easier for you to monitor your friends' activities.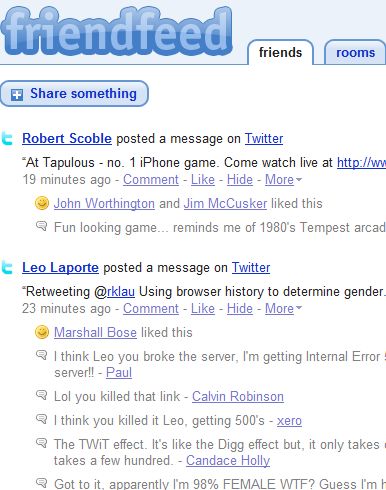 The same goes with your own–just add your blogs, social network, video sharing, photo sharing, and other accounts, and these will be summarized (and updated) on your FriendFed page.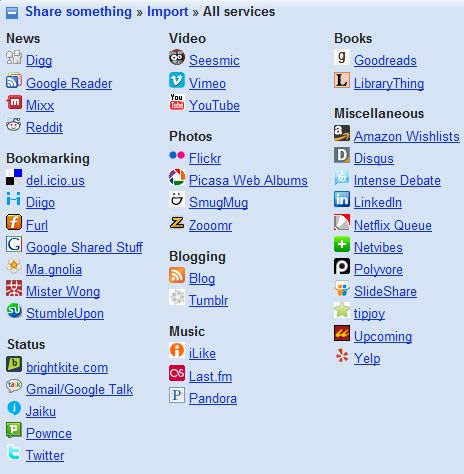 FriendFeed allows for subscription via feeds (using Atom), so you can use your favorite RSS reader to monitor updates. What I particularly like is how you can use the discussion threads to post comments. So, will FriendFeed be the next big thing, or will it just be another fad? That's something we'll have to see. For now, it's one of the services I'll be trying out in my quest to find the easiest way to monitor updates in our network that is Splashpress Media.