Not really sure if you've noticed the persistent "image caption" feature that WordPress 2.6 has developed.  I was happily blogging this past week when I've noticed that some of the images I posted vis a vis the blog posts have defaulted to a "nil" caption.  I do love this improvement, but was a little "blind sided" as there was no announcement regarding it until now, well I read it just now, hee hee. So I had a bunch of images with "nil" captions in them.  Had to manually remove it to blank (thankful they allow blanks).
It has gathered about 185 varied responses from "that stinks!" to "oh ok, it would take getting used to".  But nonetheless I think it is best practice to put captions to photos to make your blog posts a little friendlier and much understandable.
To add a caption to an image, press the image media icon just above the editor buttons:
In the same pop-up window, you can see there are other image fields to complete like "title", "description", "link URL", "alignment" and "size".
Problogger wrote a short post regarding the importance of blog images:
to enhance posts by giving a visual point of interest
to engage people to read (imagine talking about a celebrity minus the juicy photos!)
to emphasize the message
giving your blog a more personal touch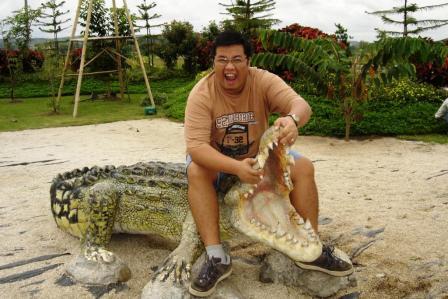 From experience, my family blog (sorry, no URLs for privacy) gathered more hits and lesser bounce rates (from Google Analytics) WHEN I include a set of photos.  When I posted that I posed with a python around my neck, guess which album they clicked through and browsed often.  Or when I held a croc in my hands like so…
I RSS read my boss' personal blog and when I saw a blog pic of him trying a spaghetti noodle up his nose I stayed on and watched the video even! haha.. that was a laugh.
So any crocs in your area that needs taming??? 😉