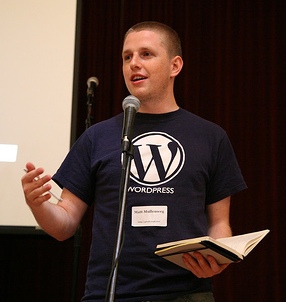 Matt Mullenweg, WordPress founder announced impressive milestones and growth figures marking the state of WordPress during WordCamp 2008.  His keynote speech emphasized the dominating strength of WordPress.org and WordPress.com over its closest rival TypePad. In the USA alone, it was noted that there are over 20.9 million WordPress.com unique visitors vs. TypePad.com's 7.2 million uniques. Internationally the numbers are further apart with WordPress.com at 97.8M vs. TypePad.com's 16.8M.  
For WordPress.org Mullenweg reports that as of today there are over 2.6 million active user-installed blogs "out there".  
Matt Asay of CNet.com aptly puts "a better word" out… open source is and will be good business.  Unique page impressions are critical data for a lot of industries.  You've got a site/service you'd want advertised online (?) the first thing you ask is "How many unique page visitors does your site attract?" 
Here's a quick run-thru of WordPress milestones:
Page views grew from 1.5 billion to 6.5 billion/month
120-160 million global unique visitors per month
Two million new blogs created for the year
35 million new blog posts (up from 20 million)
Now regarding how the minor versions run-up to the big 2.7 version?  Mullenweg says that it will be a slow yet steady work on releasing easier update/upgrade paths.  
Mullenweg mentioned Microsoft, OSX, iPhone, Facebook platform as examples, and believes that good platforms need good self-updating systems. Automattic has a three-prong strategy for better updates: better community awareness, working with webhosts, and adding automatic upgrades functionality to WordPress. Mullenweg envisions the upgrade process to work just like Firefox: one-click, with a list of plugin and theme incompatibilities generated.