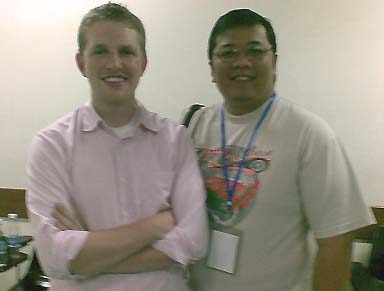 Nobody missed me!  Not even a comment to say, "hey where's Jim?".  Have we all just taken a quick look elsewhere for their daily tech dose, have we all stepped sideways to look at the other side… have we… have we… have we… 🙂
Kidding!  Been out for nearly a week and a half to work on something personal.  But I'm back, I'm back.  I'm OK, thanks for missing me! 
This past week was a little too busy for WordPress,  Matt Mullenweg has been travelling the globe to be at WordCamps happening one after the other, I think he's in Australia now.  I was able to touch base with him in one of his stop overs.  A little star-strucked I must admit as I did personally meet Mr. WordPress.  What a meeting!
WordPress 2.7, he says, will be released by November 2008.  He presented a demo of the beta version and boy… it's a huge release in my books.  So many fancy things making WordPress easier to work with, and of course, visually great too.
You can catch the proposed features right here.  One of the features I'm really anxious to use is the "One Click Plug-in Installer".
The plugin installer allows for installing plugins from the WordPress Administration panels. You can search for plugins by tag, plugin author, or by subject. It also lists the featured, most popular, and recently added and updated. When you click on the title of a plugin, you can see the details and choose to install it into your WordPress plugin list.
Yep, nothing of the download the plugin yourself, upload it to your plugins directory and activate it at WordPress plugins section.  🙂  Really cool isn't it?