Matt Mullenweg recently announced that Automatic has recently acquired Intense Debate.
Intense Debate is a cool commenting system that allows the following features:
– comment threading
– reply by email
– importing and exporting of comments
These three functions will see more exposure and much improved distribution schemes when WordPress steps in helps it's newest member. The IntenseDebate blog has lined up their expectations in the coming days/weeks as they rev up developments. Some of them would be a brief "invite-only" season for new users and a tighter integration with Akismet and Gravatar.
What this does to the blogging community is awesome. Comment threading alone will keep organization where before dizzy eyes roam about trying to find out what comment/message is from who. If you'd look at the Intense Debate blog comments, you'd know what I'm speaking off.
Matt writes that because Intense Debate is written under a common platform (PHP and MySql), integration would be a lot easier. He mentioned that comment threading will most likely be part of the WordPress core code offer for version 2.7. While the reply by email feature will be available on WordPress.com first.
This partnership is so spot-on! I'm expecting to see more lively comments from hereon. Good job guys!
Oh, let me tell you some good news from our end. If you're a blogger, webmaster and/or a website owner, you're qualified for a free subscription to Website Magazine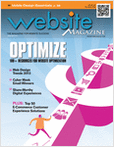 Recently we have partnered with Tradepub to provide you with a unique opportunity to receive some of the top web marketing magazines in the industry including Website Magazine. Website Magazine focuses exclusively on the business of running a website: tips for successful websites, solutions for enhancing website traffic, the latest Internet industry trends and statistics, as well as news analysis on the Internet industry.
Sign up for a free full one year subscription to Website Magazine today!