Out of the total number of visitors that land on blogs, I found out that only a small percentage actually stay and read posts. This is the problem with first-time blog visitors. You have to completely grab their attention for them to stick around.
Once a visitor lands on a page, we only have a few seconds to get their attention before they scurry away. This is why making a good first impression to our blog visitors is important. If they get intrigued enough with your blog, then it wouldn't be too difficult to convince them to become loyal readers.
---
The very first thing that people see when they load your blog is the area above the fold. I'm referring to the general area immediately visible on a visitor's monitor screen.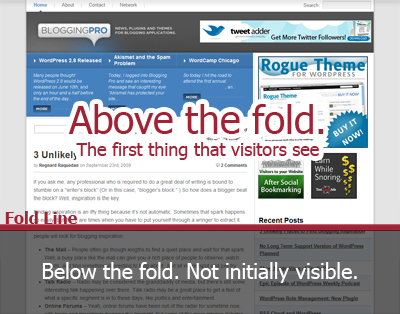 We need to make sure that everything found on this area is geared to pique interest. Some factors that could help with this would be:
Your blog's look and feel
Even if you have the best content, most people won't go into the trouble of reading it if your site is not visually appealing. Let's face it. People like a good-looking blog.
Take some time in making your blog look better. Look for a nice-looking theme that would go well with the personality of your blog. If you have money to spare, consider hiring a web designer to give your blog that unique feel.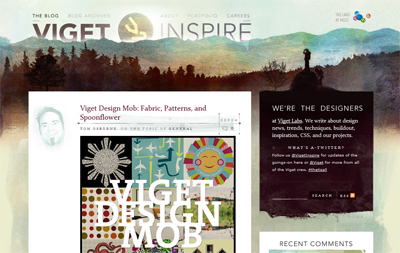 You don't know what their blog is about, but looking at their design, you kind of want to find out.
Your design doesn't really need to be a big work of art. Sometimes even a simple design would suffice as long as it is catchy or pleasing to the eye.
Your blog's title and Description
Once we have the attention of our visitors, the next thing that they do is to check out what site they are currently on. Displaying your blog header in an easy to spot location would help with this.
Also don't forget to include a short description about your blog to give your readers a gist of what your blog is. Most people don't realize how helpful this is. Look at our header. Just by looking at it you'll immediately know that we are a blog that focuses on news, plugins, and themes for blogging applications. People who have an interest with what we write will be sure to check out our posts.
A welcome or introductory blurb
Some blogs have a section which contains a welcome message aimed at visitors. Try something  personal that would catch a reader's eye like "Hi there! You've reached my blog!" or something similar. The trick is to directly address your message to your visitors.
Some blogs even include a short description explaining to readers what their blog is about.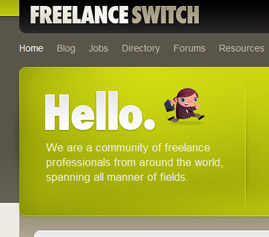 FreelanceSwitch's introductory section accomplishes both things mentioned above.
Top Posts Section
What better way to make a good impression on your visitors than to show them your best posts?
More and more blogs are now displaying their top featured articles on their pages. This is a proven and effective method especially if you place them above the fold.
By making your best posts immediately visible, their's a high chance that people would go and read it. Furthermore, tagging them as "top posts" has this effect on people that make them want to read it. Just make sure that what you place there are indeed the best that your blog has to offer, otherwise it might have a negative effect!
If you still don't have one on your blog yet here are some plugins that can help you set up a top posts section:
Daily Top 10 Posts WordPress plugin by Alleba.com
Popularity Contest WordPress plugin by AlexKing.org
---
Once you have the attention of your visitors, it's fairly easy to get them reading your posts. From hereon it's just a matter of how good your content is. If they liked what you have on your blog, chances are they'll be happy to come back and become a loyal reader. If not, well at least you tried.
Don't forget to subscribe to our feeds by clicking here!