More and more people are now using their mobile phones to access the internet. Noticing this growing trend, the WordPress team has released a new upgrade that makes WordPress.com blogs more mobile friendly.
When a mobile phone views a WordPress.com blog, the contents are now shown using special mobile themes. The theme that is displayed differs depending on the device used. For IPhone and Android devices, a theme which is a modification of WPTouch is displayed. Visitors get easy access to posts, pages, and archives, as well as AJAX commenting and post loading. When viewing using other mobile devices, a theme developed from an old version of WordPress Mobile Edition is displayed which shows the all the important important information of the blog's content while making sure that it loads everything quickly.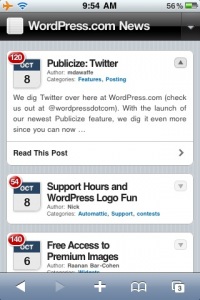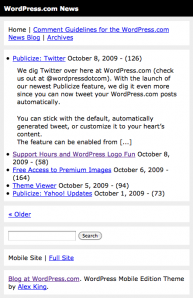 The only thing lacking with this new upgrade is the ability to customize the mobile themes. There's no option that lets you change colors or even the use of CSS. This means that your blog will look the same as all the other WordPress.com blogs. Well, at least, visitors are given the option to switch the "Full site" mode to view the original non-mobile version of your blog.
This new feature is automatically enabled on all WordPress.com blogs. To turn off this feature, go to Appearance > Extras in the Admin Dashboard and uncheck the "Display a mobile theme when this blog is viewed with a mobile browser."
For self-hosted WordPress users, you can also make your blog mobile-ready using the following plugins: WPTouch, CarringtonMobile or MobilePress.