Before, there was no way of finding out whether your plugins would still be compatible if you would upgrade your WordPress other than crossing your fingers and trying it out for yourself. If no problems were encountered then, hooray, lucky you. If problems did arise then you have no choice but to revert back to the previous version and hope that the plugin developers would make haste in making their plugin compatible.
This is the main reason why most people are afraid to upgrade to the latest version of WordPress. Thank God WordPress is always on the lookout for better ways of making things easier for its community. Alas, comes the birth of the Plugin Compatibility Beta.
Compatibility Check
If you would drop by the WordPress Plugin Directory you would notice that there is a new section titled "Compatibility" found on the right sidebar of every plugin homepage . This is a new feature that aims to help inform people on whether a version of a plugin is compatible on a particular version of WordPress based on the votes casted by those who have already tested it.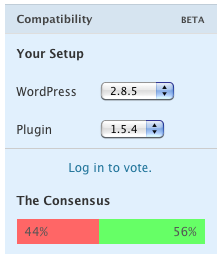 So if you're not sure whether you should upgrade, just check out the Plugin compatibility consensus of the plugins your using. Though it doesn't tell us exactly what made the plugin incompatible, at least it gives us a good overview on whether we should continue the upgrade or not.
Powered by the WordPress Community
Of course, this feature would not work without the input of the community as it is mainly powered by votes. If you do happen to experience any problems with your plugins, then please take the time to inform everyone else! All you have to do is to go to the Plugin's page and log in to vote.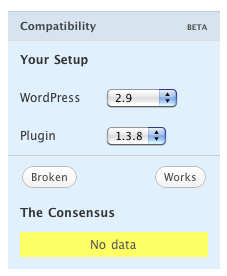 The voting process is simple. Just specify the version of WordPress and the plugin and click on whether it is "broken" or if it "works". After that, WordPress would automatically log your vote and it will be added to the "consensus" along with the votes of other users.
WordPress warns users, however, that this feature should not be used to report any minor issues with the plugin. You should only vote "Broken" if the plugin is indeed broken to the point that it is unusable or causes problems with your blog. Otherwise, it might give an inaccurate consensus.
---
Plugin Compatibility is still in Beta so we should expect more improvements to their system soon. I am hoping that Worpdress would soon integrate this inside the WordPress Dashboard for easy access.
More power to WordPress and its community!
What do you think about this new feature? Do you have any other suggestions that could make it better?