In their on-going effort in making the web faster, Google has just recently announced an experimental Webmaster Tools feature called Site Performance which shows how your site performs in terms of loading time and gives suggestions on how to make it more faster.
You can access this new feature on your Google Webmaster Tools account, under Labs > Site Performance. In this section, you are shown a performance overview of your whole site. It displays the average page load time, which refers to the amount of time it takes the entire page to fully display on your browser, as well as a comparison of it against other sites.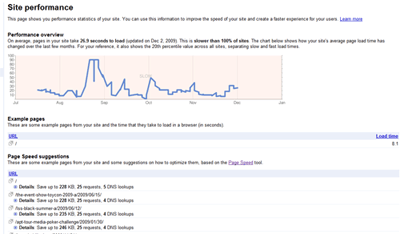 Site Performance tool in action showing the speed of one of the sites I handle.

Aside from the performance statistics, there is also a section called Page Speed Suggestions where it gives you suggestions on how to optimize the pages on your site. This feature is powered by Google's Page Speed tool, a powerful program that runs a number of diagnostic tests against a web page, and analyzes the page's performance according to a number of general page performance "rules" that are known to speed up page load times.
Since the Page Speed Suggestions evaluates only a few example pages from your site, you have the option to download and install the Page Speed FireFox Add-on which let's you evaluate any web page and immediately get the result. (Important note: You need to have the FireBug FireFox add-on installed first before installing Page Speed).
Page Speed FireBug add-on showing the performance summary of BloggingPro's homepage
As you can see on the screenshot above, Page Speed lists down suggestions like caching, gzip compression, optimizing CSS, and many more. Thanks to this, we can now be able to know where we should focus our attention on when we want to make our blogs load faster.
To learn more about the Site Performance Tool, go here. To learn more about Google Page Speed, go here.
---
Related Articles from the SplashPress Blog Network