They say that imitation is the sincerest form of flattery. For what Microsoft did to start-up company, Plurk, it's more like a slap to the face.
Plurk, one of the biggest microblogging services in Asia, is accusing Microsoft China for ripping off not only their design but also their code with their beta release of MSN Juku, Microsoft China's newly released microblogging service based on Windows Live Messenger launched last November 2009.
According to Plurk's blog post,
"… we were absolutely shocked and outraged when we first saw with our own eyes the cosmetic similarities Microsoft's new offering had with Plurk. From the filter tabs, emoticons, qualifier/verb placement, Karma scoring system, media support, new user walkthroughs to pretty much everything else that gives Plurk its trademark appeal, Microsoft China's offering ripped off our service."
To see for yourself, below is a screenshot of Microsoft Juku and Plurk: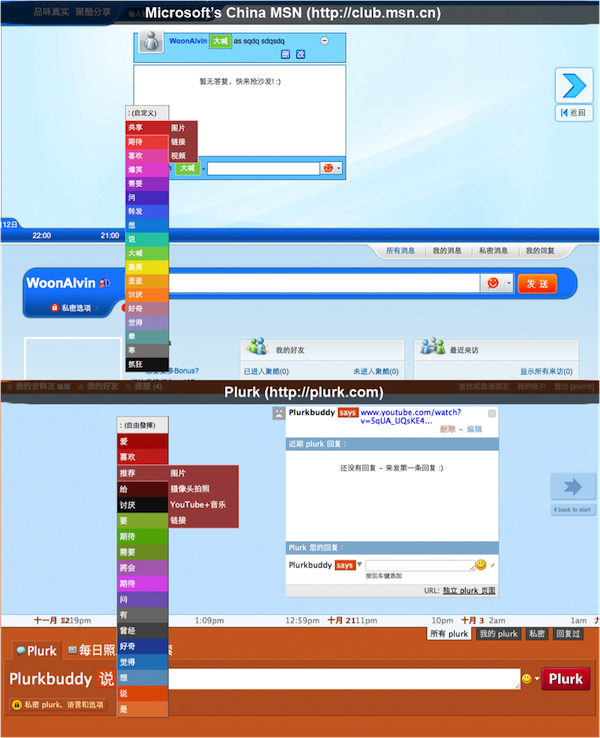 If Microsoft wanted a horizontal style layout, they could've at least changed the design elements! I mean, c'mon!
More after the jump…
Sadly, Juku's imitation doesn't just end there. Apparently, aside from the design, they copied the code as well.
On closer inspection, we found that MUCH of the codebase and data structures that Microsoft's MClub uses are identical snapshots of our code. Microsoft has taken Plurk's custom developed libraries, css files and client code and just ported them directly over to their service without any attempt to even mask this!
Here are some screenshots taken by the Plurk team comparing the code of Plurk and Juku side by side:
Of course, the code are not exactly alike. However, it is easy to spot the similarities in both the structure, as well as with the variables and functions used. Plurk claims that 80% of the client and product codebase were copied from them.
Microsoft was quick to give out an official statement regarding the issue saying that,
"Microsoft takes intellectual property seriously, and we are currently investigating these allegations. It may take some time due to the time zone differences with Beijing."
A few hours later, Juku's service was suspended followed by an official press release on the Microsoft website which read:
On Monday, December 14, questions arose over a beta application called Juku developed by a Chinese vendor for our MSN China joint venture. We immediately worked with our MSN China joint venture to investigate the situation.

The vendor has now acknowledged that a portion of the code they provided was indeed copied. This was in clear violation of the vendor's contract with the MSN China joint venture, and equally inconsistent with Microsoft's policies respecting intellectual property.

When we hire an outside company to do development work, our practice is to include strong language in our contract that clearly states the company must provide work that does not infringe the intellectual property rights of others. We are a company that respects intellectual property and it was never our intent to have a site that was not respectful of the work that others in the industry have done.

We will be suspending access to the Juku beta indefinitely.

We are obviously very disappointed, but we assume responsibility for this situation. We apologize to Plurk and we will be reaching out to them directly to explain what happened and the steps we have taken to resolve the situation.

In the wake of this incident, Microsoft and our MSN China joint venture will be taking a look at our practices around applications code provided by third-party vendors.
It seems that all of this is the fault of the independent vendor that they hired who clearly lacks the creativity to come up with their own design and code. Unfortunately for Microsoft, this is not a valid excuse as they should have seen the similarities with their new product and Plurk, which is already quite well-established in Asia for them to not notice.
No news about Plurk's response yet. Be sure to tune in here on BloggingPro for updates on this issue!