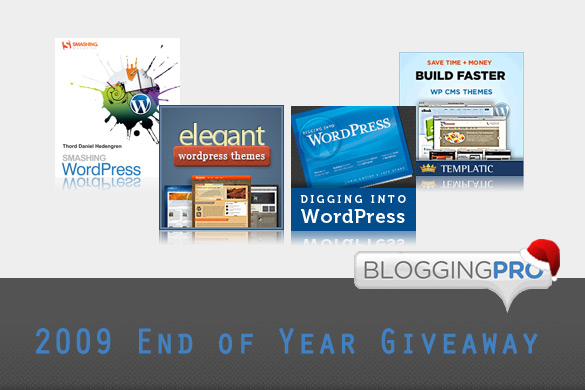 The BloggingPro team is proud to announce the first BloggingPro End of Year Giveaway.
Next week, from Monday 28th December 2009 to Thursday 31st December, every day we are giving away different prizes. A big thank you to all our sponsors who have made this giveaway possible.
Templatic

Templatic recently rebranded from PremiumThemes to Templatic and and are offering our readers several free themes to celebrate the end of year, rebranding and the launch of their elusive Store e-commerce theme.
Elegant Themes

Elegant Themes, maintained by designer Nick Roach, is another popular themes club for WordPress
Nick Roach will be giving away several club memberships during the BloggingPro End of Year Giveaway.
Digging into WordPress

Digging into WordPress author Chris Coyier was recently interviewed here at BloggingPro. Now it's Jeff Starr's turn to answer our questions and the crew is giving away several copies of the popular 'Digging into WP' book.
Smashing WordPress

Last but not least Thord D.Hedengren will announce his upcoming 'Smashing WordPress' book exclusively on BloggingPro and copies will be given away for our readers. After he finished his new design!
Follow BloggingPro on Twitter to make sure you don't miss the competitions next week!
Author:
Franky Branckaute
Franky is CEO, Editor and Muppet on Duty at Splashpress Media and sporadically blogs about the professional online life at his personal iFranky blog, when he isn't annoying his colleagues or blog software evangelists. He also is regular Guest Lecturer on all things New Media and 'blogging'. Stalk him on Twitter or on Google+