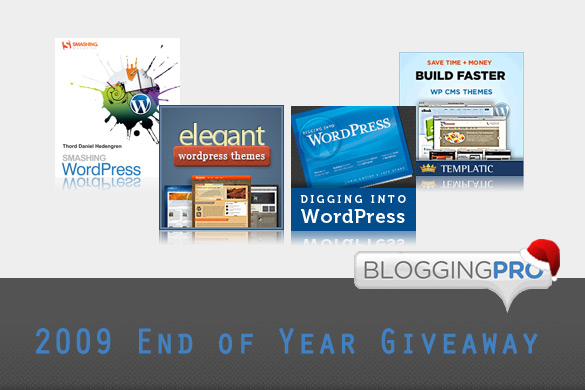 Here at BloggingPro we hope that everyone had a wonderful start to 2010 and are happy to announce the winners to our '2009 End of Year Giveaway'.
To determine the winners we used a simple PHP random query and selected the winners for every price from all the people who followed BloggingPro on Twitter and retweeted our entries over the last days of the year or who left a comment. Winners will be DM'ed via Twitter and are requested to submit their details ASAP so we can forward the details to our sponsors.
Once more BloggingPro thanks all our sponsors who made the giveaway possible and we are already working hard at organising new giveaways for 2010!
The 2009 BloggingPro End of Year Giveaway Winners!
Elegant Themes

Elegant Themes, maintained by designer Nick Roach, gave our readers 4 club memberships. The winners are:
Templatic

Templatic founder R.Bhavesh was interviewed and gave 3 licenses for the awesome ecommerce theme Store to our readers. The winners are:
Digging into WordPress

Our giveaway wouldn't have been complete without the popular Digging into WordPress book and we had the pleasure to interview co-author Jeff Starr who gave away 3 copies for our readers:
Smashing WordPress

We started our giveaway with an exclusive and had 3 copies of the soon to be released Smashing WordPress: Beyond the Blog by TDH. Winners are:
The winners will all be contacted over the next hours via Twitter and stay tuned for more news, interviews, tutorials and giveaway in 2010! Continue following BloggingPro on Twitter and become a fan on Facebook, future giveaways might be pre-announced exclusively on one of these platforms!.
Author: Franky Branckaute
Franky is CEO, Editor and Muppet on Duty at Splashpress Media and sporadically blogs about the professional online life at his personal iFranky blog, when he isn't annoying his colleagues or blog software evangelists. He also is regular Guest Lecturer on all things New Media and 'blogging'. Stalk him on Twitter or on Google+