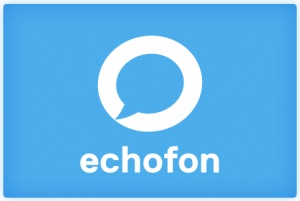 Echofon, the worlds most popular Twitter iPhone app (at least they were last year) has revamped their app by adding additional power that was lacking (at least compared to it's rivals Tweetie and Twittelator).
Here is their press release, followed by my thoughts after giving it a brief test run (since my time was limited within the geek world today).
(Naan Studio Blog) You'll find a dedicated list tab in Echofon 3 which allows for viewing, creating and editing your lists. You can also manage lists you follow, see what lists follow you. This is quite possibly the most complete lists implementation of any iPhone Twitter app.

Native retweets are now supported as well. Retweets are displayed in the familiar twitter.com style. You can still use the traditional retweet format, which allows comments along with the retweet. When viewing your profile, you can see retweets from those you follow, your tweets that have been retweeted and tweets you've retweeted.
Echofon's embrace of the native retweet function was long over due, although they do give users the option of using the original RT feature (which I hate).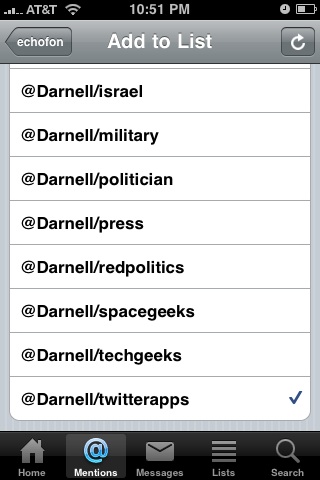 Echofon also embraces lists support as well, although unlike many (okay most) apps I've tried, your changes actually work. (note: other users are reporting crashes, but my experience is great thus far).
Last but not least I can finally edit my entire profile from within the app, and even change my profile picture (which I do frequently on Facebook).
While I could list other items that made me fall in love with app (Flickr support, smart push notifications, I did find a couple deal breakers that kept me from ditching Tweetie for this app.
Deal Breakers
To put it bluntly, Echofon STILL is lacking unlimited drafts. This is something even the dinkiest Twitter apps have, and it's sad that this feature is still overlooked.
Echofon also needs to expand the number of options for video and photo uploading, as boasting only a couple (despite the fact it had Flickr) is underwhelming.
Conclusion: You can check out more of Echofon's features over here, although in my honest opinion this is one of the few Twitter apps I had no regret paying for (in this case $5).
While I'll continue to use Tweetie for now, I think I'll keep Echofon as a backup (as Tweetie has been erroring out on me lately).
— Posted from my iPhone
Author:
Darnell Clayton
Darnell Clayton is a geek who discovered blogging long before he heard of the word "blog" (he called them "web journals" then). When he is not tweeting, Facebooking, or blogging about space and his beloved iPhone, he enjoys running, reading and describing himself in third person.