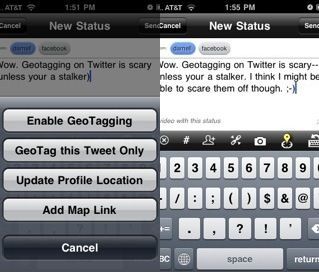 TweetDeck, an iPhone app that is seriously underpriced (I'd pay $3 for it, but free is good too) now supports Geo-tagging and native retweets.
Users have the option of turning on geotagging, enabling friends (and potential stalkers) to chart your daily route as you tweet across the map.
TweetDeck also now (finally) supports native retweets, joining Echofon, Tweetie and Twittelator in the quest to kill off the oft abused "RT copy & paste" function (although users can still opt to use it if they must).
Despite upgrading their iPhone app, TweetDeck still only supports one video carrier–12seconds–which is perhaps the only underwhelming feature of this app.
Video issues aside, TweetDeck is still one of my favorite Twitter apps as it balances elegance with power, making it a joy for newbie's and guru's alike.
Author:
Darnell Clayton
Darnell Clayton is a geek who discovered blogging long before he heard of the word "blog" (he called them "web journals" then). When he is not tweeting, Facebooking, or blogging about space and his beloved iPhone, he enjoys running, reading and describing himself in third person.