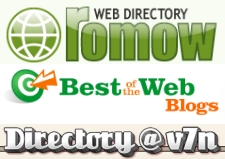 Hello BloggingPro readers, my name is Dee Barizo and I'm the resident SEO geek. My SEO column for Blog Herald has moved here. I'll be covering practical SEO tips to help you improve your rankings and get more search traffic.
Today's topic is about web directories.
In the fast moving internet landscape, directories seems very outdated but they actually still work. For my day job, I do SEO for clients. I've seen their rankings improve after building links on directories.
Quality Over Quantity
You may have seen those mass submission services like 500 free directory submissions for $25. These services seem like great deals but you get what you pay for. The vast majority of free directories are low quality sites that don't help you. In fact, they may hurt your rankings.
It's much better to choose a few quality directories even though you'll probably have to pay a review fee.
Here are three guidelines for evaluating the quality of a directory.
Outbound link policy: Quality listings is a sign of a quality directory. On the other hand, Google penalizes sites that link to low quality sites.
Traffic: If a site gets a lot of traffic, that usually means it has good rankings. I like to check traffic with Compete.
PageRank: I don't usually like to look at this stat because high PR doesn't necessarily equal high quality site. However, if you combine PR with the other two guidelines, you should be fine. I would look for directories with PR4 or above.
Recommended Directories
Here are a few of my favorite directories.
Best of the Web Blog Directory: Best of the Web is a reputable directory that's been around since 1996. Over that time, it's been a great place to find useful sites in just about any category.
V7N Web Directory: Along with having high quality standards, V7n Directory is part of a domain that includes a blog and an active webmaster forum.
Romow Web Directory: Romow doesn't even look like a directory because it has so much content. It has over 15 blogs that generate traffic and attract links.
Directory Journal Web Directory: Directory Journal is similar to Romow because it uses content to drive traffic and build links. It has a couple blogs and a webmasters tools section.
Eatonweb Blog Directory: One of the oldest blog directories around
JoeAnt Directory: JoeAnt is a well-organized directory that's been around since 2001. The site has been mentioned by Business Week. It has attracted a large team of volunteer editors, who review the submissions and only approve useful sites with sufficient content.
For more directories, check out this list.
Benefits
Why choose directories as a link building tactic?
There are two main benefits. First, it doesn't take much time to build the links. Yes, you'll need money to pay for the review process. But when you consider how much time and effort it usually takes to build a good link, it can be worth it to trade your money for time.
Second, directories associate your blog with top sites in your niche. One of the keys to link building is having a link profile that intersects with quality sites in your industry. This builds trust with the search engines, which leads to better rankings.
Over to You
Have you ever submitted your blog to directories? If you have, which ones did you use?
Did you see any increase in rankings or search traffic?
Dee Barizo is the resident SEO geek. He used to work full-time for Sea Waves as a search marketer. He currently does freelance SEO work.