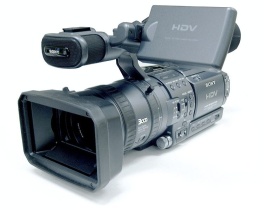 Five years ago if someone told me that we would be editing images on our cell phones and uploading them to our blogs just as easily as a laptop (or desktop), I probably would have laughed in their face.
Flash forward towards today and here I am now amazed that I am able to edit video (yes video!) at a fraction of the price I would have paid to place upon my laptop.
While the video editing apps are still in their infancy (at least upon the iPhone), here are seven of the best video apps that every video blogger blessed with the iDevice should own (plus a video of my ugly mug to help demonstrate their power).
ReelDirector
ReelDirector is an iPhone app created by Nexvio that allows you to mesh or render video's, images and audio together.
This app costs around $8 and users can even insert their own music within the video (although make sure you own the copyright before uploading music lest you be sued by the RIAA).
SlowMo
SlowMo (which sells for $0.99) is another app created by Nexvio, which (as the name implies) allows you to slow down the video (up to -8 times if necessary).
You can also speed up the film (twice the normal speed) or have the audio play normally while the video performance is altered.
Hollywood FX Video Maker
Hollywood Fx Video Maker is an app by MacPhun that allows you to apply filters such as Black & White, Sepia, or even Twilight (if you dig that affect).
Priced at $2.99, this app is the best video affects app out there and should be considered a must have for video bloggers everywhere.
ColorStroke Video Maker
ColorStroke Video Maker is an app that takes one of Hollywood Fx filters (Black, White & Red) to the next level.
ColorStroke allows you to emphasize various colors (Green, Blue, Yellow, etc.) within a black & white (or Sepia) film.
The app (which costs $2.99) does have a few issues (i.e. some colors do not work well together or "cancel" each other out) but overall this is a very decent app.
Video Fx Bundle
Video FX Bundle (also priced at $2.99) boasts some impressive video effects, although some of the features (like the various color light filters) are quite buggy.
This app may be more for bloggers who want more exotic effects (as this app probably will appeal to a slim blogging niche).
Qik
Qik is one of two (or is it now three?) iPhone apps that allow bloggers to live stream straight from their phones and have it uploaded various social networks, including blogs.
Thus far this app is only beneficial to Tumblr, Twitter and Blogger/Blog*Spot users (as Qik uploads straight to their accounts), and while it does give a nod towards WordPress lovers, the WP crowd is pretty much left out in the cold.
VideoPix
Priced at $1.99, VideoPix (by SeeItWithUs) allows bloggers to freeze a frame within a video and save it as an image.
This is quite useful if one needs a thumbnail from a video scene (which may benefit political, sports and fashion bloggers).
Any others?
While there are many other apps out there for video bloggers, these 7 are the best ones out there–thus far.
There are many more video apps coming to Apple's app store, although hopefully we will see some of these developers "share the joy" upon other platforms (so that my Google Android relatives and friends will stop being envious of my iPhone).
Author:
Darnell Clayton
Darnell Clayton is a geek who discovered blogging long before he heard of the word "blog" (he called them "web journals" then). When he is not tweeting, Facebooking, or blogging about space and his beloved iPhone, he enjoys running, reading and describing himself in third person.