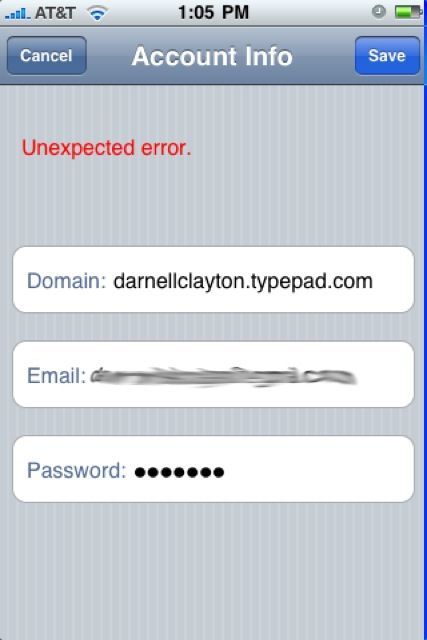 I seriously hope I am wrong about this, but it looks as if Six Apart, which was one of the first major companies to launch an iPhone blog app (for Typepad nonetheless) may have abandoned their app.
Users have been complaining about errors logging into their Typepad blogs via iPhone for quite some time (which I confirmed after trying to log into my blog and receiving the error to the right).
While users can still access their Typepad blogs via BlogPress, CellSpin and Shozu, it's sad to see Six Apart (seemingly) abandon their native iPhone app (although to their credit they still support the web interface over at i.typepad.com).
Hopefully Six Apart will reconsider continuing support for the native app (or committing serious resources towards it), as their absence leaves the field wide open for WordPress and Squarespace (not to mention a host of third party apps).
Update: Colleen brings the good news that the Typepad iPhone App is alive and well, with Twitter integration as well!
For those unable to login, try reinstalling the app (as that resolved my problem).
Author:
Darnell Clayton
Darnell Clayton is a geek who discovered blogging long before he heard of the word "blog" (he called them "web journals" then). When he is not tweeting, Facebooking, or blogging about space and his beloved iPhone, he enjoys running, reading and describing himself in third person.