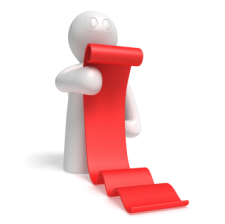 One of the easiest things you can do to improve your reputation on Google is exchange blogroll links with other blogs. This strategy is not the most powerful strategy in the world, but it can give you a small boost in rankings. And if you're targeting different keywords than your competitors, you might even get big ranking improvements.
About two years ago, I started a blog on a popular TV show. I didn't have time to do a comprehensive link building campaign, but I still wanted to get search traffic. I exchanged blogroll links with other blogs and my traffic increased by a couple thousand visitors per month.
Reciprocal links still have value despite what many SEO specialists say, but you do have to be smart about it. Here are two principles to keep in mind.
Quality
Getting links from quality sites sends signals to the search engines that your site is a worthy of good rankings. Even with the benefit of getting a reciprocal link, quality blogs are much less likely to link to spammy sites than low quality blogs. Therefore, search engines track the outbound links of quality sites as part of their algorithm.
By exchanging links with reputable blogs, you'll place your blog in "good neighborhoods," which will build its reputation with the search engines.
Relevance
If you get too many irrelevant links, you can raise a red flag with Google. For example, its not natural for a celebrity gossip blog to get a bunch of links from gardening blogs. Search engines are advanced enough to recognize the topic of a site is covering. They can easily set up spam filters that trigger whenever a site gets too many off-topic links.
As you exchange blogroll links, stick with your niche and closely related niches. Not only will this keep you from being penalized, but you'll give Google a better idea of your blog's topic. This can lead to better rankings for keywords in your industry.
Over to You
Have you ever exchanged blogroll links? If you have, did you see an increase in search traffic and rankings?
Dee Barizo is the resident SEO geek. He used to work full-time for Sea Waves as a search marketer. He currently does freelance SEO work.