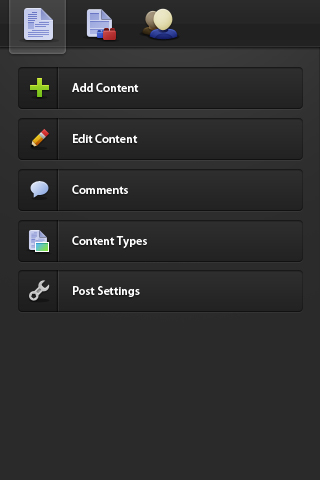 Question: How many geeks does it take to create a Drupal iPhone App?
Answer: Not enough.
iDrupal, an iPhone blogging app under development by Steve McKenzie and Zaheeren (from India) has been in "geek purgatory" for almost a year now, with no sign it will enter Steve Jobs playground any time soon.
Originally started by McKenzie out of the kindness of his heart (and wallet), iDrupal was able to receive a sponsor last October which gave some Drupal geeks hope that this app would be out soon.
A few months later and an elegant Drupal app has yet to hit the app store.
Unless McKenzie can work out his mad coding skills (and I have no doubt that he can), it looks like those of the Drupal faith may have to wait until spring before the app see's the light of day (on the app store at least).
While iLovers can currently access Drupal via BlogPress, they are unable to upload images upon their own servers (forcing them to rely upon either Flickr or Picasa Web Albums).
Hopefully McKenzie's iPhone app will be able to change all of that as Drupal's lack of iPresence doesn't help their image as a superior rival to WordPress.
(Image: Early screenshot of the upcoming iDrupal UI, Credit: Steve McKenzie)
Author:
Darnell Clayton
Darnell Clayton is a geek who discovered blogging long before he heard of the word "blog" (he called them "web journals" then). When he is not tweeting, Facebooking, or blogging about space and his beloved iPhone, he enjoys running, reading and describing himself in third person.