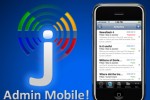 For the first time in my geek life, I am seriously tempted to switch away from WordPress, all because of one iPhone app.
Joomla Admin Mobile, an iPhone application created by Covert Apps empowers users belonging to the Joomla faith to not only edit pages and articles, but also add multiple images to them without throwing all of the images at the bottom of the post (like WordPress 2) or near the top (like Squarespace).
Priced at $9.99, Joomla Admin Mobile (or JAM for short) sells at a much higher premium than other Joomla apps, although JAM does offer a few features lacking from its rivals.
What I Loved
Just like most of the other iPhone blogging apps, JAM allows Joomla users to upload images to their server.
However what separates JAM from rivals is not only can edit the image from within the app, without having to launch a photo editing program (like iRetouch) in order to touch up a picture.
Users can easily crop, adjust the image size or rotate pictures (in many fun and various forms) from within the app, saving times and energy when composing an article or section.
Another awesome feature that I love about JAM is the ability to edit user accounts directly from the app itself without having to power up the laptop.
Site admins can grant (or take away) access levels of registered users, change their passwords, email accounts or even screen names on a whim, and last (but not least) block users from logging in if they suspect an account has been compromised.
Admins can also email users registered upon the site from within the app, which is helpful if they suspect an account has been hacked (in which you can alert them of a new password).
Last but not least, JAM does support expandable post summaries, without having to hard code it in (which I have to do with my WordPress app).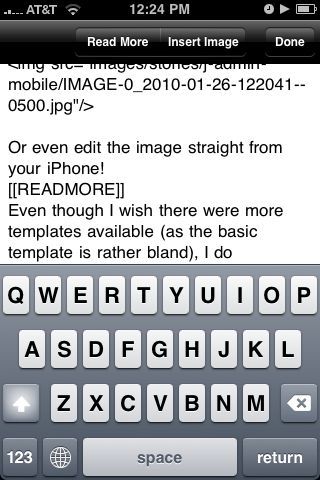 What I disliked
Most of what I did not like about JAM had to do with the user interface which is quite ugly when compared to both the WordPress 2 and Squarespace iPhone apps.
When it comes to composing an article, I felt that there was too many "taps" compared to its rivals, which allow you to edit an article immediately instead of showing you a preview first.
Although I did love the basic photo editing features, I did wish the app came with a formating bar for HTML links, similar to what the LiveJournal.app has.
Also adding video support (perhaps via YouTube?) would be nice as well, as it could help JAM stand out from the crowd (as not many blogging apps have embraced video, despite the launch of the iPhone 3GS).
Conclusion
JAM is a powerful app for Joomla lovers, and perhaps one of the most powerful CMS/blogging apps that I have come across ever since WordPress and BlogPress entered Steve Jobs backyard.
JAM's closest rival is BlogPress, although the latter does not upload images to your server but via third parties (Flickr and Picasa).
Despite being the only app to fully support Joomla, Covert Apps may want to adjust their pricing of JAM, as many users whine about apps being priced at $5, let alone $10 (mainly due to the global recession).
Overall Covert Apps is a "must have app" for Joomla lovers, and may help the Joomla community enter the blogging mainstream alongside of both Blogger and WordPress.
Author:
Darnell Clayton
Darnell Clayton is a geek who discovered blogging long before he heard of the word "blog" (he called them "web journals" then). When he is not tweeting, Facebooking, or blogging about space and his beloved iPhone, he enjoys running, reading and describing himself in third person.