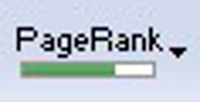 In my last post, I talked about using an SEO tool to evaluate a site's link authority. In this post, let's look at why you should be evaluating sites and how to apply the information you get from your research.
Getting quality backlinks is the best competitive advantage you can get in SEO. Backlinks are a major part of the search engines' algorithms and it's much harder to copy someone's backlinks than their keywords.
You can focus on keywords but keywords are easy to implement. Once a webmaster figures out that they are important, he can look at the free keyword tools, find relevant keywords, and then add on their website. Compare that process to building links on quality sites.
That's why the search engines place a lot of value to backlinks on their algorithms. With the early search engines, you could just place keywords on your site and you would rank pretty quickly. Savvy SEOs realized this and created many low quality sites that dominated the search results. Google became the best search engine by focusing more on links instead of keywords on a site. This focus helped Google create search results filled with more quality sites than their competitors.
It's not just the quantity of links that today's modern search engines look at. Quality of links is much more important. In fact, if you get too many low quality links in proportion to your other links, you could get penalized and lose your rankings. That's the main reason I often talk about quality sites.
Therefore, we need to figure out what quality means to the search engines. I gave the following metrics in the previous post:
PageRank
Number of backlinks
Number of links from unique domains
Age
Traffic from popular keywords
These numbers aren't perfect but they do give a good picture of the quality of a site from the search engine's perspective. Once you've found some quality sites, you can apply that knowledge. Here are some common ways:
Guest posting: I've written that guest posting is the best SEO method for bloggers. You can maximize your guest posts by sending them to quality blogs.
Link requests: At the beginning of this month, I wrote that the key to successful link requests is researching sites, figuring out the type of content they link to, and then creating that content. Once you've done those steps, you can confidently ask for a link. You can increase the effectiveness of your link requests by sending them to quality sites.
Reciprocal links: Getting reciprocal links is not a powerful strategy by any means. Still, it can give you a small boost in the rankings. But the most important thing it can do is let the search engines associate you with quality sites. Of course, for this to happen, you need to know which sites are the quality ones.
Buying sites: This application is not as common as the others. But if you ever find yourself in the position to buy a site, it can be very profitable to buy a site with a lot of authority. Also, because not every webmaster focuses on keywords, there are many sites with good links but poor onpage keyword use. Ycan quickly improve the search traffic of these sites by doing keyword research and including those keywords in strategic locations like the title tags.
Dee Barizo is the resident SEO geek. He used to work full-time for Sea Waves as a search marketer. He currently does freelance SEO work.