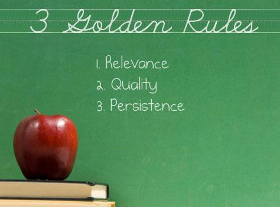 From the early days of the blogosphere, savvy bloggers realized they could get traffic and links by offering free posts to other bloggers. The bloggers receiving the posts were happy to get free content. It was a classic win-win situation.
This strategy of guest posting is not only effective for SEO and referral traffic, but it also builds your reputation, brand, and credibility.
If you want to have a successful guest posting campaign, consider these 3 rules.

1. Relevance
Your post should fit the overall flow of the blog.
Read the last couple entries to get an idea of the style and tone of the blogger. Some blogs are very informal while others have a traditional writing style. Some blogs use many images while others don't use them at all.
One of the best ways to be relevant is to read the previous guest posts on the blog. Look at what they have published before and create a post that is similar.
2. Quality
Create something so good that it can't be ignored.
About a month ago, I found out that a PageRank7 blog with 1,800 subscribers and 80,000 monthly visitors was looking for guest posts. As you can guess, the blogger had pretty high standards for the content on his site. I started working on a guest post since PR7 links are hard to come by. I came up with a topic but after 3 hours, I realized the post was not going to be good enough so I scrapped it and started a new post. It took me 7 hours to complete. I did a lot of research and wrote four rough drafts to get the post just right.
I sent off the post and the blogger really like it. He published it within a week.
You might balk at the thought of spending hours creating one post, but oftentimes that's what it will take to get popular bloggers to notice you. Now you may not have to spend 10 hours like I did but don't underestimate the time and effort it takes to produce quality content.
3. Persistence
The old saying goes, "If at first you don't succeed, try, try again."
If your post gets rejected or you don't get a reply, don't give up. Send it to another blogger. You worked hard at creating a top-notch post, so someone else will be willing to publish it.
About three weeks ago, I sent a guest post but the blogger said they already had similar content. I thought my content was unique but I didn't say anything. Instead, I moved on. I did some research and found a blog with better stats. I sent them the guest post and they published it within a week.
Dee Barizo is the resident SEO geek. He used to work full-time for Sea Waves as a search marketer. He currently does freelance SEO work.