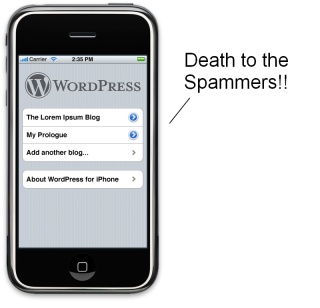 Right on the heels of the launch of their Blackberry and Android brethren, it looks like iLovers have finally received several updates to the WordPress app–all of them dealing with comment moderation.
(WordPress for iPhone) I'm very excited about this new version which is focused on improved comment moderation including:

Reply to Comments
Edit Comments
Highlighting the new items in the comment list

We hope this release will make the comment experience on the go much more enjoyable and useful.
These latest features should make it easier for bloggers to not only weed out the trolls, flamers and spammers who make a living harassing others, but also help them engage with their vocal audience (which is a good idea if you want to maintain a loyal following).
The ability to edit comments is useful as well, as it will help users modify comments that are NSFW (or Not Safe For Work for you non-geeks out there) or for users who (foolishly) post personal phone numbers in the comment section.
Despite the update, the WordPress iPhone app is still rather lacking when compared against the Blackberry and Android apps (hint: where's my VideoPress?!) so it looks like I will still have to rely upon BlogPress and Statistics for WordPress to satisfy my blogging needs.
Update: It looks like WordPress also allows you to create hyper links easily within a post (a feature they had during WordPress 1.0).
Author:
Darnell Clayton
Darnell Clayton is a geek who discovered blogging long before he heard of the word "blog" (he called them "web journals" then). When he is not tweeting, Facebooking, or blogging about space and his beloved iPhone, he enjoys running, reading and describing himself in third person.