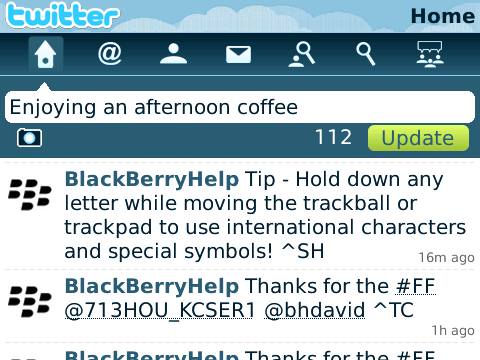 If you have been following the drama over in the Blackberry App World, you probably know by now that the company is planning on developing a corporate app for Twitter and releasing it for free (hat tip: Mashable)
(Inside Blackberry) The Twitter for BlackBerry smartphones application has been designed to take advantage of the BlackBerry platform to create a user experience that will be familiar to both Twitter and BlackBerry smartphone users. Some of the areas that we have focused on are:

Push technology and Message List integration to notify you of your direct messages as soon as they arrive.
Send/Share BlackBerry menu integration along with bit.ly URL shortening so that you can share your favorite BlackBerry App Worldâ"¢ applications, interesting websites or a random picture from your camera with your Twitter followers.
From the initial screenshots the Blackberry Twitter app (thus far) looks impressive, although its entrance within the BB App World could signal the death of excellent mobile apps in the not so distant future.
Although I'll admit to you that many of the twitter apps on BB world were underwhelming, there were a few diamonds in the rough like TweetGenius, which was like "the Tweetie" for Blackberry devices.
Despite offering an array of features for BB fans, it's doubtful that users will pay BeeJive $8 when Blackberry is offering a native one for free.
This will probably discourage other third party developers from creating decent premium apps for the blackberry, which could translate into blackberry becoming a smartphone that sucks when it comes to blogging (unless you are using WordPress that is).
Could I be wrong? I seriously hope so. Although if I were a developer I would think twice about creating a blogging app on the Blackberry as the last thing you need is direct competition from the mobile phone creator itself.
Author:
Darnell Clayton
Darnell Clayton is a geek who discovered blogging long before he heard of the word "blog" (he called them "web journals" then). When he is not tweeting, Facebooking, or blogging about space and his beloved iPhone, he enjoys running, reading and describing himself in third person.